Why Did U.S. Marshals Shoot at a Man 76 Times? Don't Look to Video for an Answer
The feds still haven't implemented body cameras for their own law enforcement officers.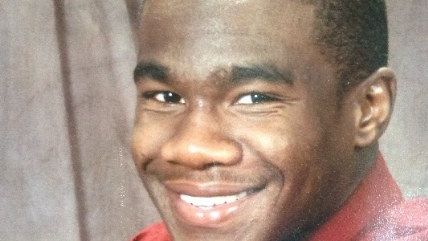 The mother of Jamarion Robinson wants to know why U.S. Marshals felt the need to shoot at him 76 times in a deadly encounter in East Point, Georgia, last August.
She'll probably never get answers she can trust, partly because her son is dead but also because none of the marshals were wearing body cameras. The incident is a reminder that, even though the Department of Justice has been providing grants to municipal police departments to purchase and implement body cameras, it is not following its own example. Federal law enforcement officers are not wearing body cameras.
In August, a U.S. Marshals task force attempted to apprehend Robinson, wanted for attempted arson and for aggravated assault on police in Atlanta. His mother told Atlanta's NBC affiliate Robinson had been diagnosed with schizophrenia. He had apparently poured gasoline on the floor in his home a few weeks before this incident and later pointed a gun at police officers in Atlanta before running off. The marshals were asked by local police to assist in arresting Robinson for these previous incidents.
According to the Georgia Bureau of Investigation, Robinson had a gun and shot at marshals when they came to arrest him. He ignored orders to drop the gun. It's not clear from the report who fired first, but evidence indicates Robinson did fire his gun. The marshals shot back, and while they don't know how many shots were fired in total, a medical examiner said had been struck 76 times all over his body, including his hands and feet. Furthermore, an investigator hired by Robinson's family said he found two bullets lodged straight down into the floor where Robinson's body was found. (Note that there's some confusion in reporting here: Another news outlet says he was struck around 20 times.)
It may very well have been justified for marshals to open fire on Robinson. But body cameras could have made it clear that Robinson shot first and could have explained why so many shots were fired in a way a vague, passive-voice police account could not. But even though the Department of Justice supports such transparency, the federal government is lagging behind the municipal law enforcement agencies its funding.
Though we've also seen that local police have unfortunately been finding ways to bypass recording. There were local police on the scene at this encounter. Their police cars normally have dash cameras, but on this particular day they were driving new cars that didn't have the cameras outfitted yet, according to the NBC report.
But even if they had cameras, the U.S. Marshals would not have let the officers use them. Because the feds have not come up with their own rules yet for camera use, they're instructing local agencies that they can't have body cameras on when they're doing joint arrest or task forces with the marshals.
Now, with Donald Trump as our president-elect, it's worth wondering and worrying about whether any of the federal law enforcement agencies will implement body cameras at all. Trump, who has bought into the false narrative that there's a "war on police," was endorsed by the national Fraternal Order of Police. The Fraternal Order of Police has praised the possibility of Sen. Jeff Sessions, a drug warrior who supports civil asset forfeiture and opposes sentencing reform, as Trump's attorney general pick. Given that police unions have been incredibly resistant to the implementation of body cameras, it may be a challenge to get the Department of Justice to join the camera club, and we may see much less pressure or financial assistance for local police agencies to do the same.