Trump and Obama Meet, Trump Transition Plans Begin, Aaron Schock Being Indicted: P.M. Links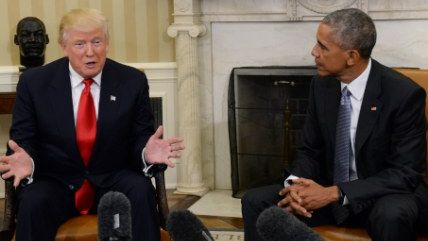 Pat Benic/UPI/Newscom

President-elect Donald Trump sat down with President Barack Obama at the White House for a meeting. The two pledged to work together, but they did not have the typical photo op with the first couples together.

The incoming Trump administration now has a transition site organized online.
Trump has invited British Prime Minister Theresa May for a visit. She, you may recall, came into power after the populist success of Brexit there.
Former Rep. Aaron Schock (R-Ill.) is being indicted by a federal jury for his spending habits while in office, his defense attorneys say.
Former Los Angeles Mayor Antonio Villaraigosa announced he will run for California's governor in 2018. That will put him in competition with former San Francisco mayor and current lieutenant governor Gavin Newsom.
Bernie Sanders won't rule out running for president again in 2020.
Russia may block access to LinkedIn for violating a rule that data collected on its citizens must be stored within the country.
Follow us on Facebook and Twitter, and don't forget to sign up for Reason's daily updates for more content.