ExxonMobil Climate 'Fraud' Follies Update: Activist 'Conspirators' Don't Shred Your Documents
What did the Union of Concerned Scientists know and when did it know it?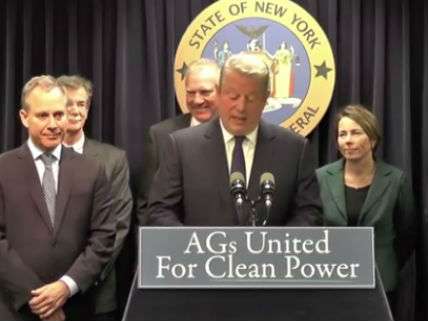 In a legal "what's sauce for the goose is also sauce for the gander" move, ExxonMobil's lawyers have sent letters demanding that various environmental activist groups preserve any and all documents and emails related to any joint planning they did with the Attorneys-General United for Clean Power. The AUCP group is probing into how the oil company may have fraudulently its misled investors about climate change. As part of this investigation, the AUCP group led by New York Attorney-General Eric Schneiderman has sought four decades of documents from the company including those related to its contacts and support of researchers, think tanks, and activist groups who have been skeptical of predictions of catastrophic man-made climate change. Of course, this kind of legal fishing expedition would have the effect of chilling speech that the mostly Democratic attorney-generals and their activist friends dislike.
Now the company is apparently relying on a recent ruling by Federal District Court judge Edward Kinkeade who says that he is concerned that the legal assault by the AUCP on ExxonMobil is being done in "bad faith." Consequently Kinkeade is seeking similar planning documents from AUCP participant Massachusetts Attorney-General Maura Healey.
From the Washington Post:
Lawyers for ExxonMobil have told a variety of non-governmental organizations to preserve all communications regarding climate change investigations with a sweeping array of other groups and individuals — including members of the press.

The letters from Exxon's lawyers Paul Weiss Rifkind Wharton & Garrison said the groups, including the Union of Concerned Scientists and the Rockefeller Family Fund, should hang onto communications with individuals such as former vice president Al Gore and William McKibben, a Middlebury professor and leader of the environmental group 350.org. …

"Our request to preserve documents is focused on groups or individuals directly involved in a campaign to discredit our company using false allegations and mischaracterizations of the company's history of climate research and communications with investors," Alan T. Jeffers, an ExxonMobil spokesman, said in an email. "We have no choice but to defend ourselves against politically motivated investigations that are biased, in bad faith and without legal merit."

"We did not start this, but we will see it through and will vigorously defend ourselves."
Naturally, the activist groups are resisting the possibility that their internal communications could be handed over to ExxonMobil:
"How tragic that the management of a once great corporation would permit itself to devolve into a civic bully committed to intimidation of public interest advocates," [Lee] Wasserman, [director of the Rockefeller Family Fund], said. …

"We're not a party to this litigation," said Kenneth Kimmell, president of the Union of Concerned Scientists. "It raises questions about how an [non-governmental organization] like UCS can be dragged into a legal fight between Exxon and the attorney general."

He added that it would "very burdensome" for the group to comply if a court or prosecutor were to issue an actual subpoena to produce such documents.

"The letter that we received from ExxonMobil's lawyers signals that the company is planning a massive fishing expedition into UCS's internal e-mails and communications with others, including the press," Kimmell said in an email. "We don't see how this relates to the company's current disputes with the New York and Massachusetts Attorneys General, and it appears to be yet another effort to intimidate us from exposing climate science deception."
While some may enjoy a sense of schadenfreude at the expense of self-righteous activists, it is time for all sides to abandon and forever eschew this abuse of administrative subpoenas law in the service of suppressing disfavored free speech. I am certainly not a constitutional law scholar, but it seems to me that it is past time to abolish administrative subpoenas which are issued at the sole discretion of would-be prosecutors. Instead, prosecutors, including state attorneys-general, should be required seek a warrant from neutral courts as provided by the Fourth Amendment when seeking documents from private citizens and organizations.