'This Is Your Brain on Drugs' Guy Supports Marijuana Legalization
John Roselius, who famously warned that drugs would fry your brain like an egg, says he has changed his mind about pot.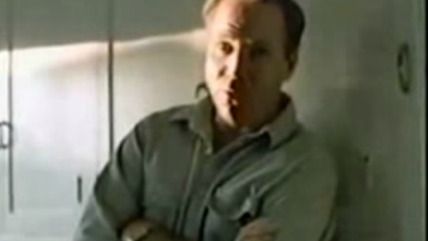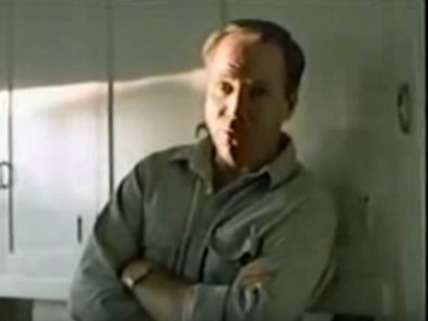 In a recent Pew Research Center survey, Americans born between 1928 and 1945 (a.k.a. the Silent Generation) were the only age cohort in which a majority still supported marijuana prohibition. But the survey also found that support for legalization within this group has quadrupled since the late 1980s, meaning that millions of Silent Generation members have changed their minds about marijuana since then. One of them, it turns out, is John Roselius, the actor best known to Americans who came of age during the Reagan administration for his role in the iconic, moronic "This Is Your Brain on Drugs" ad. Last week Roselius, now 72, told The Rooster, a Colorado magazine, he was "100 percent behind" legalization and had just voted for it in California (which has early voting).
Roselius said he was paid just $360 for his work on the 1987 public service announcement, which was produced by the Partnership for a Drug-Free America. The 30-second version shows Sebelius standing in a kitchen, his arms folded as he leans against a cabinet. "Is there anyone out there who still isn't clear about what doing drugs does?" he asks. "OK. Last time." He picks up an egg and announces, "This is your brain." He points at a hot frying pan on the stove and says, "This is drugs." He cracks the egg into the pan and as it sizzles holds the pan up, saying, "This is your brain on drugs. Any questions?"
There were in fact a lot of questions, starting with "WTF?" Also: "Does anyone really expect such over-the-top scare tactics to deter curious adolescents from trying drugs?" And: "Can I get that with a side of bacon?" In 2006 the Partnership for a Drug-Free America bragged that "the 'Fried Egg' TV message was so popular that it was satirized and spoofed on T-shirts, records labels, posters, and even on Saturday Night Live." If they're mocking us, we must be getting through to them!
Roselius told CBC Radio he was "very sincere" about the generic anti-drug message at the time, although he also acknowledged that he had a serious drinking problem back then. Now sober 28 years, Roselius said his in-laws, who used marijuana instead of opioids for pain and voted for legalization in Washington state, played a key role in persuading him that cannabis should be legal. He still accepts prohibitionist propaganda about other illegal drugs. He told The Rooster "mushrooms are bad" and LSD makes people "jump out the fifth-story window."
Roselius, who has appeared in movies such as Space Jam, Con Air, and The Truman Show, said he was dismayed that the fried-egg ad, which he expected to run for six months or so, was still being aired more than a decade later. "To this day," The Rooster notes, "people on the street still call him 'Egg Guy.'"