Operation Cross Country X: Everything You Need to Know About the FBI's Annual 'Underage Human Trafficking' Sting In One Chart
Sex workers and their customers made up 72 percent of arrests in this "underage human trafficking" operation. Human traffickers? One percent.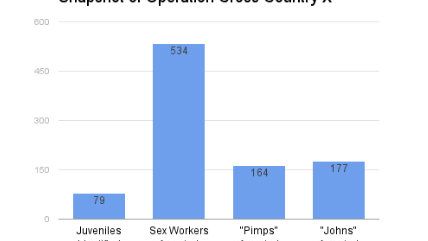 The results have been pouring in from Operation Cross Country X, the FBI's tenth annual, nationwide sex sting targeting what the agency describes as "underage human trafficking." Each year, FBI agents across America team up with police officers, sheriff's deputies, state attorneys, Homeland Security investigators, and others for a few days of posing as people buying or selling sex. This year, "hundreds of law enforcement officials took part in sting operations in hotels, casinos, truck stops, and other areas frequented by pimps, prostitutes, and their customers," the FBI reported. Seventy-four FBI-led "Child Exploitation Task Forces" orchestrated operations in 103 U.S. cities, with more than 400 different law-enforcement agencies participating in the October 13-16 efforts. And the payoff? According to the FBI, "82 sexually exploited juveniles" were recovered and "239 pimps and other individuals" arrested. The average age of the minors was just under 16-years-old.
"This is a depressing day in law enforcement," said FBI Director James Comey, announcing Operation Cross Country 10 (OCCX) results at an International Association of Chiefs of Police gathering last week.
Comey's right—it is a depressing day in law enforcement. But not for the reasons he would have us believe. What's depressing is watching authorities congratulate themselves—and the media follow suit—on fighting child sexual-exploitation in America when the bulk of OCCX efforts involved cops contacting adult female sex workers while posing as customers and then arresting them, if not also seizing the women's money and throwing them in jail. Take a look at just who got caught up in OCCX, by the numbers: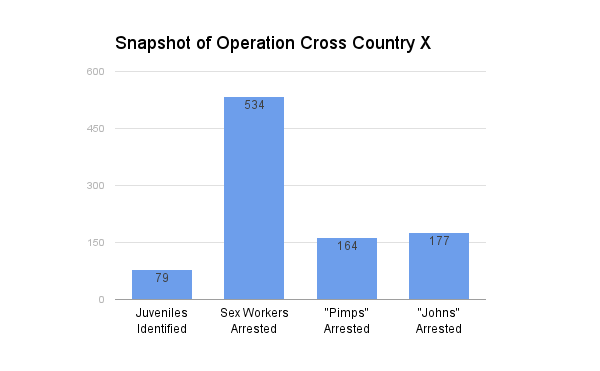 The chart above does not reflect all minors identified or arrests made in OCCX. But of the "more than 400" U.S. law-enforcement agencies that participated, the sample I'm pulling from includes, at my best estimation, 367 of them, including divisions of 12 federal agencies (such as the IRS Criminal Investigations Unit, U.S. Customs and Border Protection, and the Drug Enforcement Administration). I compiled it over the past week using information from law-enforcement and media reports. It includes 79 of the FBI's stated 82 juveniles identified, ecompasses sting efforts in 30 states, and includes many metropolitan areas that are portrayed by police as hubs of human trafficking, including Atlanta, Cleveland, Dallas, Detroit, Houston, Las Vegas, Milwaukee, Portland, San Diego, San Francisco, and Seattle.
Within this sample, nearly three-quarters of all arrests were for simple solicitation or prostitution—that is, men and women trying to participate in consensual commercial sex. Some of the "criminals" the FBI helped take down in this operation included a homeless Wyoming woman who was allegedly selling sex and carrying marijuana and a 61-year-old woman offering sex from an upstate New York hotel room. In El Paso, "about 20 agents and officers with the FBI, Homeland Security Investigations, El Paso Police Department and the Texas Department of Public Safety took part" in a bust that led to the arrest of one 18-year-old woman on charges of fraud, theft, and tampering with government records and one 18-year-old woman for prostitution.
Had the 18-year-old El Paso sex-worker been just slightly younger, the FBI could have added her to its "rescued minors" roster: Anyone under age 18 found to be offering sexual-services for pay is considered a sex-trafficking victim under federal law. It needn't require the minor to have been abducted, held captive, or coerced into the sex trade; to have a pimp; or to be working with anyone else at all. In most cases, FBI efforts to "rescue" girls starts the same as the process for busting adult women: make contact via online ad and, once a girl or woman meets in person at a hotel and offers sex, detain them. Those neither underage nor claiming to have been trafficked are arrested for prostitution, while juveniles are returned to their parents or placed in state protective custody.
As Sydney Brownstone writes at The Stranger, "no one, including sex worker advocates, wants minors (or anyone) to be abused in the sex trade." (And just to be clear, no one's advocating to decriminalize knowingly paying minors for sex.) But "the world of sex work is a lot bigger—and a lot more complex—than projects like [Operation Cross Country] depict. Local sex workers and international organizations like Amnesty International say that decriminalizing sex work, and allowing sex workers to exercise their labor rights, would help prevent exploitation, rape, and other abuses, including abuses of minors." And even short of decriminalizing adult prostitution, there are better ways to address underage prostitution than the raid-and-rescue model perpetuated here, which tries to address issues of poverty and marginalization by playing heroes and villains.
Regardless how old someone selling sex is or how willing their involvement, anyone accompanying them may be arrested as a "pimp." In Arkansas, for instance, any men who accompanied adult, female sex workers to OCCX hotel "dates" with undercover cops were arrested for promoting prostitution. In Oklahoma, a man was arrested on federal charges for driving his 18-year-old girlfriend, who was willingly selling sex, across state lines. In Mississippi, a man from out of state who was visiting his 22-year-old daughter was arrested for promoting prostitution because, as Southaven Police Lieutenant Mark Little told Fox 13, he was not forcing his daughter into prostitution but was aware she was doing it. The man's neighbor back home said he was shocked by the arrest and "Something is wrong. He just went to visit her."
These are all people the FBI refers to as "pimps," because pimp is a term vague but sinister enough that most casual observers assume the worst. But just to be perfectly clear, there needn't be any deception, coercion, force, nor minors involved for someone to be charged with "pimping" or related charges, such as "promoting prostitution" (the most common) or "pandering." And included in FBI totals for "pimps and other individuals" are some men merely convicted of solicitation of prostitution—that is, responding to someone they thought was an adult sex worker who, in the case of OCCX, was actually an undercover cop.
One might reasonably assume OCCX targeted organized crime networks, transient traffickers, or similarly multi-jurisdictional bad guys, at least. But no—despite the fact that there's no federal law against prostitution, the biggest part of this FBI-led operation was the arrest of hundreds of individual women (and a few men) on prostitution charges and more than 130 individual men for soliciting sex from adult women. And while there were some cases of genuine exploitation and abuse uncovered, these were few and far between cases of people arrested for trying to participate in consensual, adult prostitution.
People often say, "if it saves even one child victim, it's worth it." But there's simply no reason why saving said victims requires cops to arrest hundreds of adult women, or even one, for selling sex. We don't round up and arrest car dealers when there's an auto thief on the loose.
It wasn't only sex workers arrested in OCCX without having any relationship to exploited children. In practice, Operation Cross Country serves as a sort of quasi-federal vice sting. This October's efforts yielded arrests for driving on a suspended license; marijuana, meth, and heroin possession; outstanding warrants unrelated to prostitution; and more. Many of the men arrested—whom news headlines, just to remind you, are describing as child sex traffickers—did nothing more than show up to meet with an undercover cop they thought was an adult sex worker. The following chart gives as detailed an account as I could* muster-up about the "pimps and other individuals," as well as potential victims, identified by the FBI.
This chart does not include people whom authorities merely caught and either detained or sent a text-message warning to in several sex-worker and "john" stings. The "pie" represented here is people either arrested or counted as victims in the Operation Cross Country X stings I analyzed, a group we will (for lack of better phrasing) refer to to as those who had a significant interaction with OCCX task forces.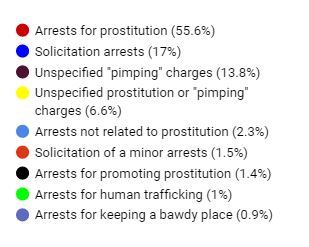 So, of the people police had a significant interaction with in this operation, around 7.5 percent were those who could at least legally be classified as "underage human trafficking victims" and around 0.8 percent were potential adult victims of sex trafficking. A little more than half of the people police had significant interactions with were adults, almost exclusively women, who wound up arrested on prostitution charges. The next largest chunk of interactions was with men arrested for trying to pay for sex.
If we zero in on arrests only, adult sex workers and their would-be customers make up around 72 percent of all interactions. Arrests on suspicion of human trafficking make up 1 percent.
In pouring through press releases from FBI field-offices along and all of the local-media accounts of OCCX I could find, I've identified approximately:
534 arrests for prostitution
163 arrests for attempting to pay an adult for sex (solicitation)
145 arrests for charges such as pimping, pandering, promoting prostitution, or contributing to the delinquency of a minor
14 arrests for attempting to pay an undercover-cop pretending to be a teenage-girl for sex
10 people arrested on human-trafficking charges
9 people arrested for "keeping a bawdy place," in conjunction with massage-parlor prostitution businesses in Virginia
* I want to be clear that while I've been as careful and thorough as I could in a reasonably quick amount of time, these numbers shouldn't be taken as anything more than a well-informed estimation of OCCX results. Even if I tallied everything perfectly, my data comes from cross-checking such notoriously vague and unreliable sources as law-enforcement statements and local TV-network reports. In the not-so-distant future, a project I'm working on with the Reason Foundation's criminal justice reform director should produce some more concrete data.