Drug Busts Still Lead Arrest Statistics, Even as Marijuana Prohibition Fades
The law enforcement establishment has to keep itself occupied with something, doesn't it?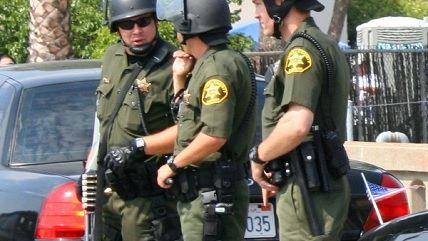 As troubled as our country is at the moment, divided between two main mutually contemptuous (and contemptible) political blocs, facing a rising generation seemingly frightened by the exchange of ideas inherent in a devotion to protecting free speech, and apparently committed to placing either a psychopath or a sociopath in the White House, at least the country is winding down the depredations caused by drug prohibition. Four states have legalized marijuana for recreational use, and many more have made it available as a medical treatment. Their ranks are likely to be joined after November by—
What's that you say? Cops are still filling out their arrest quotas with drug busts?
Holy crap. You're right.
"The highest number of arrests were for drug abuse violations (estimated at 1,488,707 arrests)," the FBI announced about its recently released crime statistics for 2015. Drug busts were followed by "larceny-theft (estimated at 1,160,390), and driving under the influence (estimated at 1,089,171)."
By comparison, there were 505,681 arrests for violent crimes, and 1,463,213 busts for property crimes of any sort.
I already know the naysayers are going to chime in with complaints that the people busted weren't all simple users. There were dealers in that mix! And manufacturers! And some folks dealing while manufacturing and using.
Well, so what?
In most areas of human life, we recognize that industry and commerce are perfectly peaceful activities—and beneficial ones that produce prosperity and put food on the table. Drug laws may make industry and commerce in disfavored intoxicants illegal, but that doesn't render such activities inherently less peaceful and prosperity-inducing. As we saw with our national misadventure in banning alcohol, it takes a prohibition to introduce violence into a trade that might otherwise be as work-a-day as any other.
"[I]ncreases in enforcement of drug and alcohol prohibition have been associated with increases in the homicide rate, and auxiliary evidence suggests this positive correlation reflects a causal effect of prohibition enforcement on homicide," Harvard economist Jeffrey A. Miron concluded in 1999 after studying the issue in-depth. "The only way to reduce violence, therefore, is to legalize drugs," he emphasized 10 years later.
But for the sake of argument, let's concede the point. Trafficking is bad, mmkay?
If we dig deeper into those FBI figures, we find that only 16.1 percent of them were for sale and manufacturing. Possession made up 83.9 percent of drug arrests in 2015. That is, the vast majority of arrests for all categories of drugs had nothing to do with making or selling illegal substances, if that's the sort of thing that matters to you.
And yes, those drug arrests represent the lowest level of marijuana busts in 20 years. But that's a drop after a big surge during that time, and we still saw over 643,000 arrests for the leafy stuff (over 574,000 if you want to stick to that "possession" distinction). And again, a total of 1,488,707 busts by police just for using or trading in marijuana, cocaine, meth, and other officially disfavored intoxicants of people's choice—the largest category of arrests.
That's a lot of folks slapped into handcuffs over stuff that makes everybody but government officials and their hangers-on feel good. (Well, a lot of them like the stuff too, but they rarely have to worry that they'll be wrestled to the ground as a consequence.)
And never mind the outcome of those arrests—whether or not possession busts ultimately result in hard time. Any encounter with the police is likely to be an unpleasant one. It's astounding how many people picked up on even minor charges manage to expire under mysterious circumstances.
As we've seen before, prohibition is a bit of an industry all of its own. Harvard historian Lisa McGirr writes in her 2015 book, The War on Alcohol: Prohibition and the Rise of the American State, of the "federal penal state" that emerged from Prohibition. "The war on alcohol and the war on drugs were symbiotic campaigns," McGirr told Reason in an interview. "Those two campaigns emerged together, [and] they had the same shared…logic. Many of the same individuals were involved in both campaigns."
That penal state at the local, state, and federal level hasn't shrunk an iota in personnel or power in the intervening years. "There are more than 900,000 sworn law enforcement officers now serving in the United States, which is the highest figure ever," the National Law Enforcement Officers Memorial Fund boasts on its website. Those officers need something to do to justify their employment, and while the FBI reports an uptick in violent crime in 2015, that's after many years of decline–and overall arrests still dropped. "Arrests of juveniles for all offenses decreased 8.4 percent in 2015 when compared with the 2014 number; arrests of adults decreased 3.0 percent," according to the Uniform Crime Report.
Now the war against marijuana is winding down—several more state are likely to loosen restrictions through ballot initiatives this year. Out of a sheer lack of opportunity, marijuana arrests will have to drop in jurisdictions where the stuff just isn't illegal. That leaves other drugs, but they don't have the same popularity, and seem unlikely to keep "the highest figure ever" busy making arrests.
But a never-ending war on booze, or drugs, or other forbidden consensual activities has kept all those cops and prison guards and interagency task forces gainfully employed through the decades.
It makes you wonder what category of prohibition will lead the arrest statistics a few years from now.