Donald Trump Accused of Kissing Porn Star Jessica Drake Without Her Consent, Offering to Pay Her $10,000 for Sex
Drake did not agree to Trump's advances said lawyer Gloria Allred on Saturday.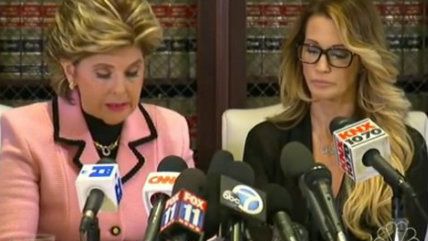 (photo of NBC News via @JeffreyGuterman/Twitter)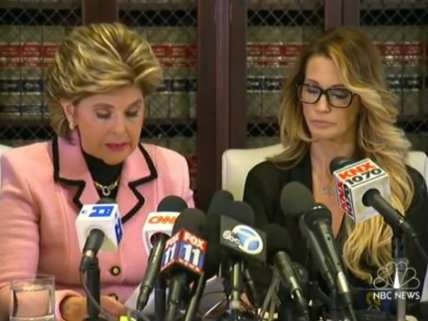 Adult-film star and sex educator Jessica Drake is the latest woman to accuse Donald Trump of moving on her sexually without consent. At a live Los Angeles press-conference Saturday with lawyer Gloria Allred, Drake accused the Republican presidential nominee of "uncontrollable misogyny, entitlement, and being a sexual assault apologist," and claimed he kissed her and two other women without their consent upon meeting them in 2006. Drake also said Trump offered to pay her for sex.
According to Drake, she and the other women were invited by Trump back to his Lake Tahoe hotel suite after meeting him at a golf tournament. Once there, Trump allegedly grabbed each of them tightly and kissed them. Later, a Trump representative called and invited Drake back to the suite alone, she said, but she declined—after which Trump personally called to extend the invitation. "What do you want? How much?" Trump allegedly said before offering her $10,000, which she rejected.
Drake's accusations add to the growing chorus of women from Trump's past now accusing him of kissing, grabbing, and groping them against their will. What's novel here is the allegation that Trump solicited sex for cash.
Libertarians don't think that last part should be illegal, and I guess it's not surprising that Trump doesn't, either—Trump's (handlebar-mustachioed) immigrant grandfather first made his money in America by running a Seattle brothel, after all. But Trump hasn't shown much willingness lately to buck with GOP tradition when it comes to freaking out about sex, signing a recent pledge to get tough on internet porn and repeatedly denouncing Anthony Weiner as a "pervert" for sexting.
Sexual pervert Anthony Weiner has zero business holding public office.

— Donald J. Trump (@realDonaldTrump) April 10, 2013
At the press conference, Allred stressed that Drake's profession as a porn actress and director was irrelevant here. In her work, Drake consents to certain sexual activities, said Allred, while she did not agree to Trump's advances.