The Cyberpunk Future That Wasn't
Friday A/V Club: The cyber-hype of the early '90s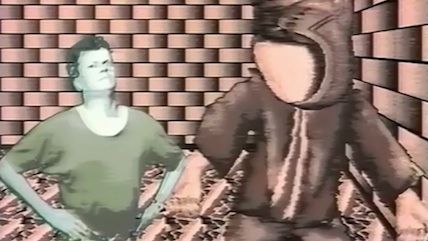 Back in 1990, the World Wide Web existed in only embryonic form. The internet was becoming more accessible, but most people did not use it. An online world was emerging, but it was far from clear just what it would look like once it became a mass phenomenon.
In that environment, certain segments of the culture—and certain segments of the counterculture—were intensely interested in how digital technologies could change the world. Some of the forecasts that emerged were close to the mark. Some seemed plausible but turned out to be wrong. And some were gushing geysers of ridiculous hype. You can see all three, but especially the third, in Cyberpunk, a 1990 documentary directed by one Marianne Trench. There are marquee names here—the interviewees include William Gibson, Timothy Leary, and Vernon Reid—but the real star is the idea that cyberpunk had ceased to be a mere science-fiction subgenre and had become, in the narrator's words, a "way of life."
The movie is terrible, but it's terrible in engrossing ways. The script careens haphazardly from one loosely related topic to another (hackers! smart drugs! dresses made of computer chips!), all of them described in purplest possible terms. Everything we see is dressed up with what seemed at the time to be "futuristic" visual effects. (Think of them as the early-'90s counterpart to the "psychedelic" effects of a hippie-era exploitation flick.) And then there's the you-gotta-be-kidding-me interview with a fellow who called himself Michael Synergy. He goes on at great length about his hacker powers and outlaw cred without giving us any reasons to take his vague claims seriously. The narrator informs us that he is a "legitimate cyber-hero."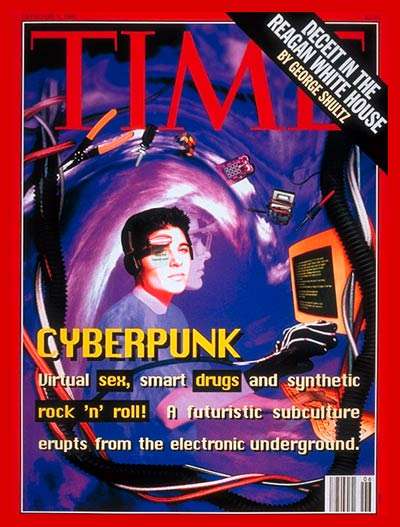 Speaking as someone who was 20 years old when this came out, I can attest that much of the movie's ridiculousness would have been obvious even at the time. (I didn't see the picture when it was released, but I remember rolling my eyes at similar attempts to make cyberpunk the Next Big Countercultural Trend. Everyone I knew who actually identified with any of these cultural currents emitted a big groan when, say, Time did a cyberpunk cover story.) But one thing that wasn't clear back then was how accurate the video's forecasts for the future would be. Some of it does feel prescient now—you can catch flashes of future phenomena ranging from transhumanism to WikiLeaks—but it's the stuff that's wrong that's most fascinating.
Consider the section about music. The filmmakers want to highlight the ways digital technologies will democratize the culture, yet we get no glimpses of the revolutions that would soon turn both the production and distribution of music upside-down; instead the movie focuses on industrial bands with "cyberpunk-themed songs." Or consider Leary's discussion of the ways cyberspace will transform the way we work. Some of his portrait isn't so far from the lives of modern telecommuters using Skype. But he seems to think that this future will require everyone to wear a "computer suit" and enter virtual reality.
Speaking of virtual reality: If you watch just one part of Cyberpunk, make it the section that starts about 46 minutes in, when the narrator starts to go on about "a social time bomb called 'cyberspace.'" This was back before cyberspace was widely used as a word for the entire online universe; this movie still associates it with the virtual-reality vision described in Gibson's 1984 novel Neuromancer. And so we get a breathless description of the coming virtual world, which in this video looks like a combination of Second Life and Tron. I probably shouldn't hold the early-'90s hype about virtual reality against the current prognostications that VR is about to change everything, but it's worthwhile to look back at these old predictions before you accept the new ones too readily.
Here's the movie:
One person who liked this documentary, incidentally, was the libertarian activist Karl Hess, who urged Liberty magazine to review it around the time I worked there in the '90s. I'm not surprised that it tickled his fancy: It espouses anti-authoritarian politics and embraces decentralized technology, a combination that was dear to Hess's heart. I just wish it was as good as he said it was.
(For past editions of the Friday A/V Club, go here.)