Pennsylvania Senate Advances Bill That Would Block Access to Police Body Cam Videos
A bad state bill would simultaneously decrease police accountability and let them film wherever they want.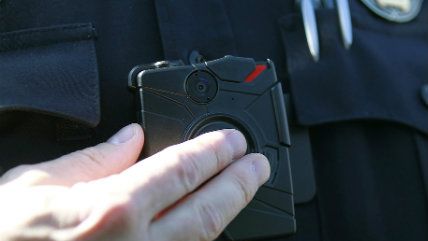 (Elizabeth Flores/ZUMA Press/Newscom)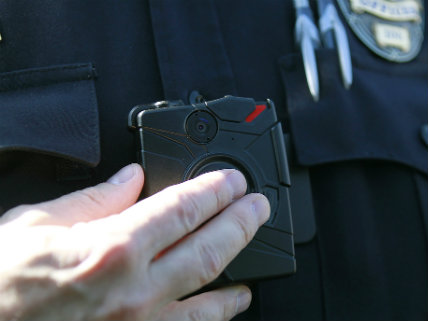 The Pennsylvania state senate passed a bill on Wednesday to expand police use of body-worn cameras, but the bill would also block practically all body cam footage from public records requests.
The bill, which now heads to the state house, would amend the Pennsylvania Wiretap Act to allow police to wear body-worn cameras inside homes, as well as public spaces. However, the American Civil Liberties Union and other critics say it would also make it practically impossible for media outlets and individuals to obtain body cam footage, in addition to weakening privacy protections for citizens in their homes.
If the bill passes, Pennsylvania would become the seventh state to neuter a promising police accountability tool. North Carolina enacted a law in July exempting body cam footage from public records requests. Five other states—Florida, Georgia, Illinois, Oregon, and South Carolina—also exempt police body cam videos under freedom of information laws, according to the National Conference of State Legislatures.
The Pittsburgh Post-Gazette reports:
The bill would require anyone seeking access to data from body cameras to identify every person in the video before the video had been viewed. It would also give law enforcement the ability to deny the request if the information being sought was part of an active investigation. If requesters appeal, they would have to pay $250 filing fees.

Aaron Zappia, a spokesman for [state senator Stewart] Greenleaf, said in an interview Wednesday that such protections were built into the legislation because "the primary purpose of body cameras is to gather evidence."

"These are evidence-gathering tools," he said. "Evidence is sensitive information, and people's identities may need to be protected in some cases."
In a letter to the state senate expressing its opposition to the bill, the Pennsylvania ACLU legislative director Andy Hoover says that while "victims of and witnesses to crime need protection," the current bill goes too far and "creates a byzantine process to request data from police cameras."
"In practice, under this bill, the public will rarely, if ever, see video produced by police departments that shows misconduct by officers." Hoover writes.
Meanwhile, the bill will also removes a prohibition on officers filming inside private residences, allowing police to film inside homes under any circumstances. It also does not mandate when officers must turn their body cams on or off, or how long footage may be stored—two fundamental issues in how body cams are used by police departments.
What the Pennsylvania senate appears to be missing is the fact that police body cams are far more than evidence-gathering tools. They are, first and foremost, accountability tools. The national push for body cams in the wake of the deaths of Michael Brown and Eric Garner at the hands of police was premised on the notion that the public would be able to see what happened in controversial police interactions.
As Adam Marshall, an attorney at the Reporters Committee for Freedom of the Press said in an interview with Reason earlier this year: "The whole reason we have these body cam programs is because there was a lack of reliable information about what happens between law enforcement and the public. If you cut off access to the public, you're undercutting the entire rationale for this new technology. If there's no public access to these videos, they just become another surveillance and investigative tool for police, instead of providing the oversight everyone believed they were being instituted to provide."
There are thorny questions about how to balance privacy rights of those filmed on police body cams. In Washington, D.C. for example, the Metropolitan Police Department goes through the laborious process of fuzzing out the faces of citizens who appear in body cam footage. The patchwork of state laws that have emerged following the rapid roll-out of police body cam technology have resulted in, at best, some thoughtful but complicated polices, and at worst, policies that betray the purpose behind much of the push for body cams. Pennsylvania legislators seem intent on joining the latter group.