New Poll of 15 Swing States Shows Gary Johnson Beating the Spread in 13; Double Digits in 7
Even if inflated a tad, new numbers underscore that the candidate will go forth where no Libertarian has tread.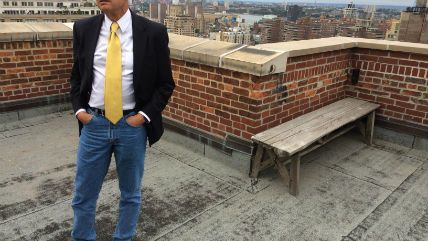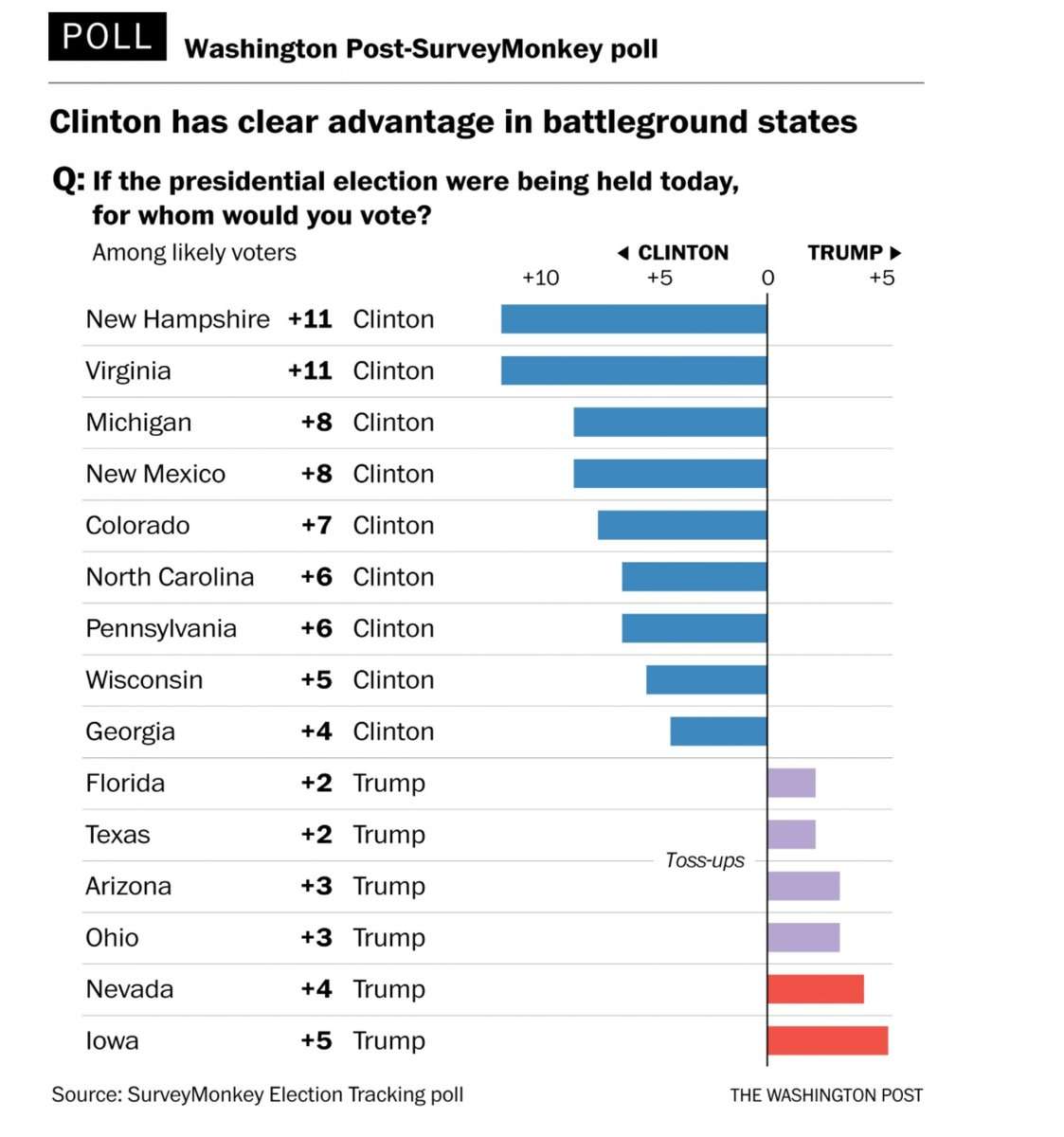 If your Twitter feed is like mine, you have seen some version of the handy graphic to the right, showing the two-party results of a Washington Post/SurveyMonkey poll conducted Oct. 8-16 across 15 battleground states. It's a striking and somewhat shocking visual, showing reliably Republican states such as Texas and Arizona in the "Toss-ups" category, Obama-voting two-timers Nevada and Iowa in the red, and GOP-loving Georgia on Team Blue.
Not pictured is Libertarian Party nominee Gary Johnson, which is a shame because his support exceeds the spread between Hillary Clinton and Donald Trump in 13 of the 15 states, and his totals reach double-digits in seven. Here's a list of those states ranked highest to lowest, with the competition (including the Green Party's Jill Stein) in parentheses:
NM: 18 (HC 41 DT 33 JS 5)
WI: 12 (HC 43 DT 38 JS 4)
CO: 12 (HC 44 DT 37 JS 4)*
MI: 11 (HC 45 DT 37 JS 5)
AZ: 10 (DT 44 HC 41 JS 3)
IA: 10 (DT 45 HC 40 JS 2)*
NH: 10 (HC 47 DT 36 JS 4)
OH: 9 (DT 44 HC 41 JS 4)
GA: 9 (HC 45 DT 41 JS 2)
NV: 9 (DT 44 HC 40 JS 5)
NC: 9 (HC 46 DT 40 JS 3)
TX: 8 (DT 44 HC 42 JS 2)
PA: 8 (HC 46 DT 40 JS 3)
VA: 8 (HC 49 DT 38 JS 3)*
FL: 7 (DT 45 HC 43 JS 3)
Before you get too happy or sad, here's a bucketful of caveats: 1) See all those crooked Jill Stein numbers? They are almost surely inflated, calling into question the accuracy of the third-party haul here. On a national level, Stein hasn't polled north of 3 percent all month, with one exception: An Oct. 10-16 showing of 4 percent from the same outfit that did this, SurveyMonkey. In fact, of all the national polling outfits, SM has produced the second-most robust numbers for Gary Johnson, averaging 9.8 percent across 20 polls (only IBD, at 11.0 percent in just four surveys, is higher). 2) Johnson's poll numbers have been degrading steadily both nationally and locally, to the point where FiveThirtyEight currently predicts him getting just 5.9 percent of the vote, down from 6.5 percent just two weeks ago. ("Really wondering whether Johnson will actually hit 5% nationally," FiveThirtyEight number-cruncher Harry Enten tweeted yesterday. "I think he still will, but could be close…") 3) Many of the individual states' results are out of whack with polling averages; see Arizona for example. And 4) Independent conservative Evan McMullin, currently making waves in Utah, wasn't included in this poll in the three asterisked states above, consistent with his record of going poll-less in 9 of the 11 states in which he's on the ballot.
But even if you knock down Johnson's numbers above by three percentage points per (which roughly corresponds to the consensus for his state-by-state performance), it still underscores that the Libertarian nominee is beating the spread in one-third of the country, on the way to by far the party's best finish ever. It says something about the weirdness of this political year (and just maybe of this political tribe) that many libertarians see this result as a historic faceplant, but there you go.