Philippine President Defends Killing of Children in Drug War—Says They're 'Collateral Damage'
If you're hurting children, the president says he'll kill you.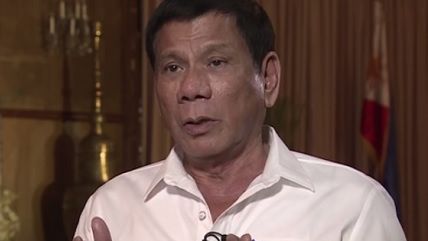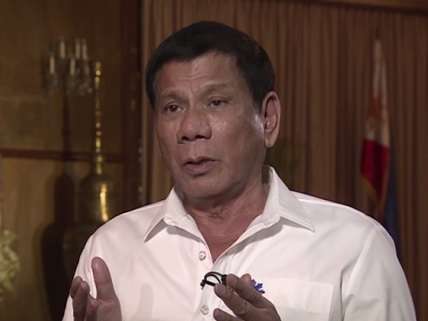 Philippines President Rodrigo Duterte compared his country's war on drugs to the U.S. war on terrorism, suggesting children who were killed by government or vigilante forces were collateral damage, in an interview with Al-Jazeera. "When you bomb a village you intend to kill the militants but you kill the children there," Duterte offered. "Why do you say it is collateral damage to the West and to us it is murder?"
Duterte claimed the Philippines had 3 million drug addicts (about 3 percent of the population) and growing, and that the war on drugs his government has waged, which claimed 400 lives in its first month, including 150 by vigilante groups, was justified in the name of the "next generation" of Filipinos. Nearly 4,000 people have been killed since July, including up to 1,300 by vigilante groups, which Duterte has previously encouraged, as The Guardian reports.
The president also defended the killing of bystanders by police. When a suspect with a pistol and a police officer with an automatic rifle exchange fire, "with the policeman and the M16, it's one burst, brrr, and he hits 1,000 people there and they die." This, Duterte said, could be justified. "It could not be negligence because you have to save your life. It could not be recklessness because you have to defend yourself."
As Jacob Sullum noted in August, Duterte's strategy has been to "kill them all." Duterte doubled down in his Al-Jazeera interview. "You destroy my country, I'll kill you, and it's a legitimate thing," Duterte said. "If you destroy our young children, I will kill you,that is a very correct statement."
Before he was elected Duterte objected to comparisons to Donald Trump, insisting he was not a bigot. In the Al-Jazeera interview, he rejected suggestions he was dictatorial. (Duterte has sought emergency powers to fix traffic and praised the kleptocrats Ferdinand Marcos.) "For the life of me, I have yet to remember a thing that I did that would indicate that I have the traces of being dictatorial," Duterte complained. "From day one."
President Duterte, of course, is not alone in thinking drug offenders should be killed. So do American drug warriors.