New Proposed Nevada Solar Power Plant Would Cost Six Times More Than the Hoover Dam
While supposedly delivering about the same amount of electricity.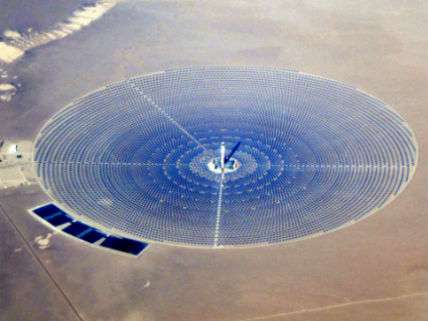 A new solar plant that would supply as much electricity as the Hoover Dam is being proposed for Nevada, was hailed in a report on NPR's Morning Edition today. The plant would also store heat in the form of molten salt so that it could produce power at night and on cloudy days. The cost? The NPR reporter did not blink an eye when told it would cost a mere $5 billion to build.
So how much did the Hoover Dam cost to build? According to a 2010 Public Radio Media program Marketplace, it cost a $49 million in the 1930s, which is worth under $750 million today. In other words, the new solar power plant would cost in today's dollars more than six times what it cost to complete the Hoover Dam.
University of California energy professor Daniel Kammen told Marketplace that the Hoover Dam was a visionary public/private partnership. "That was essentially a government-designed vision, and it found partners in the private sector, and partners in the developers of many big cities in the southwest,' he said. "So that tied together an energy plan and a development plan."
Private/public partnerships have evidently gotten at lot more expensive of the past 80 years.