Hurricane Matthew and the Politics of Climate Change
Everybody please just stop politicizing the weather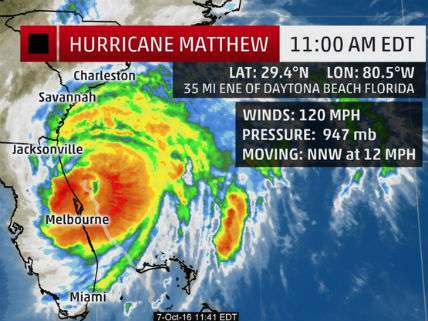 Weather disasters bring out the worst partisan instincts nowadays. It's happening now with Hurricane Matthew. Two days ago, a Huffington Post headline read: "Hurricane Matthew's Strength Is Yet Another Climate Change Indicator." In fine reactionary mode, Matt Drudge tweeted his doubts: "The deplorables are starting to wonder if govt has been lying to them about Hurricane Matthew intensity to make exaggerated point on climate." Drudge further darkly suggested that the National Oceanic and Atmospheric Administration has a monopoly on data and could be cooking the books about just how high Matthew's wind speeds are. I, too, am skeptical of government agencies, but Drudge and other weather conspiracists provide no evidence for such claims in this case.
So what can be said about the relationship between climate change and hurricanes? The U.N. Intergovernmental Panel on Climate Change's Fifth Assessment report noted:
Current data sets indicate no significant observed trends in global tropical cyclone frequency over the past century and it remains uncertain whether any reported long-term increases in tropical cyclone frequency are robust, after accounting for past changes in observing capabilities. Regional trends in tropical cyclone frequency and the frequency of very intense tropical cyclones have been identified in the North Atlantic and these appear robust since the 1970s (very high confidence). However, argument reigns over the cause of the increase and on longer time scales the fidelity of these trends is debated with different methods for estimating undercounts in the earlier part of the record providing mixed conclusions. No robust trends in annual numbers of tropical storms, hurricanes and major hurricanes counts have been identified over the past 100 years in the North Atlantic basin.
More recent research by climate modelers suggests that as the oceans heat up and the atmosphere becomes more saturated with moisture, hurricane numbers may decrease but they may become stronger and produce more rainfall.
On the other hand, empirical researchers in an article in the Journal of Climate recently observed:
Ten years ago, Webster et al. documented a large and significant increase in both the number as well as the percentage of category 4 and 5 hurricanes for all global basins from 1970 to 2004, and this manuscript examines whether those trends have continued when including 10 additional years of data. In contrast to that study, as shown here, the global frequency of category 4 and 5 hurricanes has shown a small, insignificant downward trend while the percentage of category 4 and 5 hurricanes has shown a small, insignificant upward trend between 1990 and 2014. Accumulated cyclone energy globally has experienced a large and significant downward trend during the same period. The primary reason for the increase in category 4 and 5 hurricanes noted in observational datasets from 1970 to 2004 by Webster et al. is concluded to be due to observational improvements at the various global tropical cyclone warning centers, primarily in the first two decades of that study.
In any case, the latest bulletin from the NOAA's National Hurricane Center notes:
At 200 PM EDT (1800 UTC), the eye of Hurricane Matthew was located near latitude 29.7 North, longitude 80.7 West. Matthew is moving toward the north-northwest near 13 mph (20 km/h), and this general motion is expected to continue today. A turn toward the north is expected tonight or Saturday.

On the forecast track, the center of Matthew will continue to move near or over the coast of northeast Florida and Georgia through tonight, and near or over the coast of South Carolina on Saturday. Maximum sustained winds are near 115 mph (185 km/h) with higher gusts. Matthew is a category 3 hurricane on the Saffir-Simpson Hurricane Wind Scale.

Although weakening is forecast during the next 48 hours, Matthew is expected to remain a hurricane until it begins to move away from the United States on Sunday. Hurricane-force winds extend outward up to 60 miles (95 km) from the center and tropical-storm-force winds extend outward up to 185 miles (295 km).

A wind gust to 84 mph (135 km/h) was recently reported at Ponte Vedra, and a coastal marine observing station at St. Augustine recently measured a wind gust of 85 mph (137 km/h). A tidal gauge at Fernandina Beach reported a storm surge inundation of 3.11 feet above mean higher high water.

The latest minimum central pressure reported by an Air Force Hurricane Hunter plane was 947 mb (27.97 inches).
Whatever the relation between Hurricane Matthew and climate change may or may not be, I personally would evacuate to higher ground.