Here's How Backpage CEO Carl Ferrer Supposedly Profited From Child Sex Trafficking
Behold, 12 things the state of California considers sex trafficking that are totally not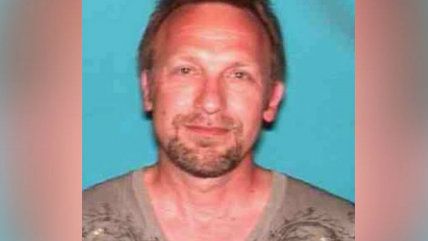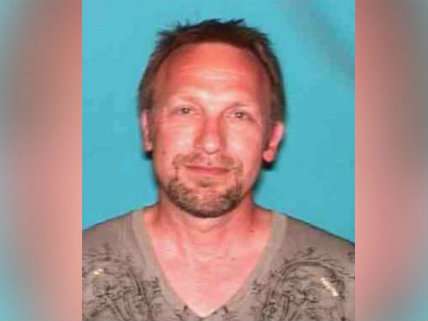 The head of Backpage.com, the world's second-largest online classifieds site, was arrested in Texas yesterday under a California warrant for pimping, conspiracy, pimping of a minor, and attempted pimping of a minor. Here's the paperwork filed by California Department of Justice Special Agent Brian Fichtner in support of Ferrer's arrest. The government asserts that Ferrer and Backpage intentionally profited off of child sex-trafficking.
Their "evidence"? It's… insane. I don't know how else to describe it other than that. Throughout the complaint, Fichtner uses instances of Backpage cooperating with law-enforcement and the National Center for Missing and Exploited Children in identifying and finding potential victims as evidence that Backpage profits off of exploitation. Backpage is literally rejecting—and turning over to the government—ads that may promote sex trafficking, and the government says, see! proof that sex traffickers love Backpage! Shut it down! It's like a building owner reporting predatory activity out front and the cops arresting him and tearing up the street corner instead of tracking down the predator.
It also gives lie to the idea that this crusade against Backpage is about stopping the sexual exploitation of children and not eradicating online ads for sexual-services entirely. First, officials went after the "adult services" section on Craigslist. Then they took down sex-ad forum MyRedbook.com, the gay prostitution site Rentboy.com, and escort review forum The Review Board. Next up: Backpage. It's simply the latest target in the U.S. government's quixotic and cruel aim to make sex-work as hidden (and dangerous) as possible.
Below, check out the lame logic California offers to justify portraying Ferrer as a sex trafficker and charge him with pimping children:
1. Adults advertising legal sexual services on Backpage (such as sensual body rubs) may actually be peddling sex.

As Craigslist shows, if you give people a place to post classified ads, many will be for prostitution. The government likes to crow about how it got Craigslist to take down its "Adult Services" section, but take one look at sections for dating and "casual encounters" and you'll see the sex trade is still totally alive and well on Craigslist. The presence or absence of a heading marked "adult" or "escort" ultimately makes little difference—heck, there are plenty of people offering sex on Twitter every day. It's absurd to expect websites to intuit the real motives of every user who posts, or try to somehow screen out people offering legal pay-to-play erotic activity from those who will tack on a hand-job at the end of a massage or have sex with a client after flogging him.
2. Adults explicitly advertising sexual services for a fee on Backpage are indeed offering sexual services for a fee.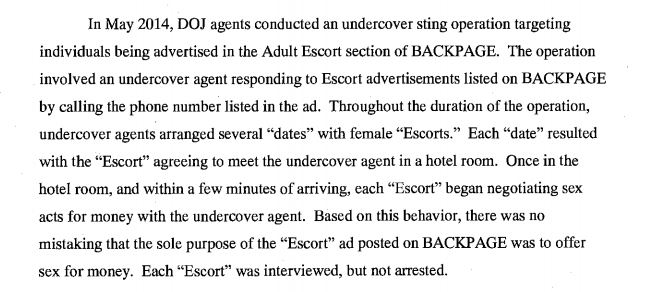 For the record, Backpage runs hundreds of thousands of user-generated ads every day. It does not, cannot possibly, and does not claim to look at all of them before they go up, which is why it relies on automated screening processes that flag potentially suspicious ads, with these flagged ads then reviewed by actual humans. Trying to prevent people from offering illegal services (like prostitution) through such screening processes is all Backpage can realistically do, short of not existing. And it should be enough to protect it from criminal liability under federal law. Like other user-generated content and social media sites—from Craigslist to Reddit to Facebook—Backpage is theoretically shielded from liability for things users post by Section 230 of the federal Communications Decency Act.
3. Sex sells better than old sofas.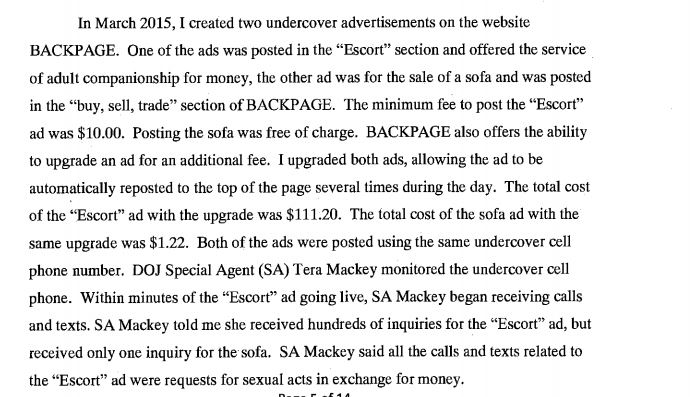 Somehow this is Ferrer's fault.
4. Backpage removed an ad suspected of offering prostitution when it was reported and then blocked it from being re-posted.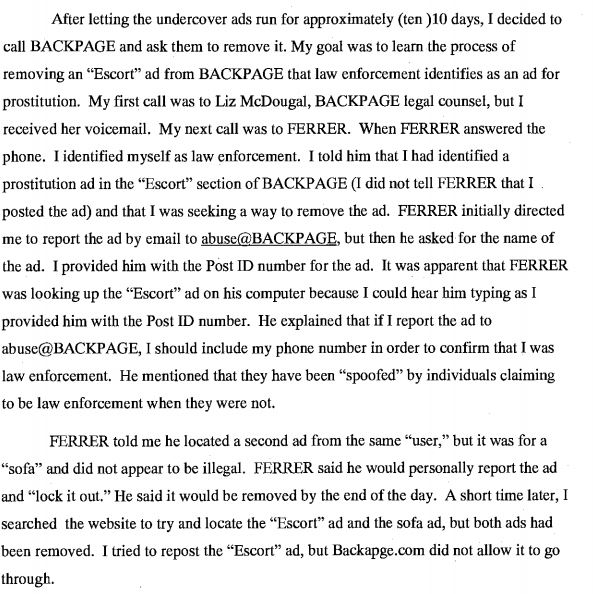 It is unclear how quickly removing ads for illegal activity when notified and preventing ads for illegal activity from being re-published somehow constitutes the promotion of illegal activity.
5. Backpage uses automated filtering to try and prevent people from posting about illegal activity.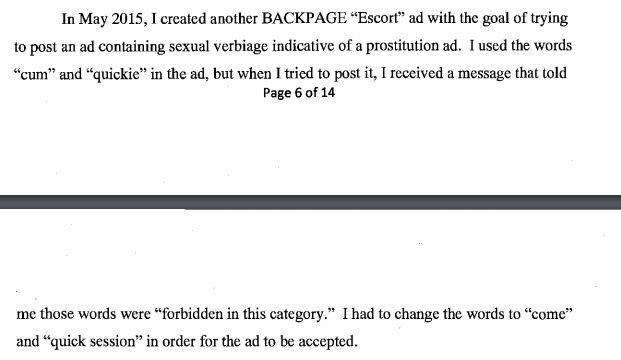 Ban all homonyms!
6. Sometimes minors are advertised on Backpage, and this helps the National Center for Missing and Exploited Children and local law enforcement to find them.

It's important to note that "suspected" here means NCMEC actually has no idea. The agency screens ads all around the country and reports those with potentially underage individuals in them to state law enforcement agencies. But there's not much difference, looks wise, between a 17-year-old "child" and a 19-year-old adult, so it's largely guess work. NCMEC has also monitored and flagged ads with words or phrases allegedly signaling someone underage, but these phrases (like "barely legal") are also used frequently for marketing purposes by sex-workers over 18.
Out of all of the suspected instances reported—and if there were 2,900 in California alone, it's got to be a big number—only 400 actual investigations were launched over a four-year period, suggesting much of the ad-sharing NCMEC does is out of an abundance of caution.
Regardless: how is it a bad thing that NCMEC can monitor Backpage for potential exploitation? That's certainly something it couldn't do if prostitution ads were further dispersed all over the Internet or these teens were selling sex from bars and street corners. In the minority of cases where NCMEC turns out to be correct about minors engaging in prostitution, it's Backpage that provides a paper trail allowing law enforcement to track them down, along with any potential predators.
7. Backpage helps law-enforcement with juvenile sex-trafficking investigations.
"Backpage acknowledges that pimps routinely pay Backpage for ads trafficking children for sex," Fichtner states. And how does he back up this outrageous claim? By stating that Backpage has cooperated with law-enforcement and the National Center for Missing and Exploited Children in sex trafficking investigations—which does not really sound like an "acknowledgment" of wrongdoing from Backpage at all. Still, Fichtner offers no further evidence to support either the claim that "pimps routinely pay Backpage for ads trafficking children for sex" or that Backpage acknowledges any such thing.
8. An adult woman detained for prostitution in a DOJ sting on Backpage admitted to advertising on Backpage.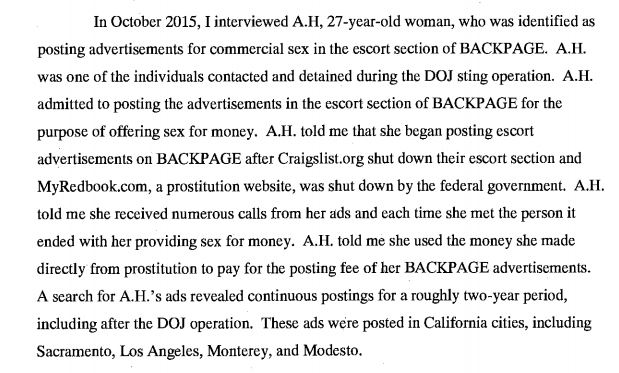 9. Sex-trafficking victims sometimes flee pimps and start working for themselves by posting ads on Backpage.


9. Teen girls sometimes pretend to be adults in order post their own sex ads on Backpage.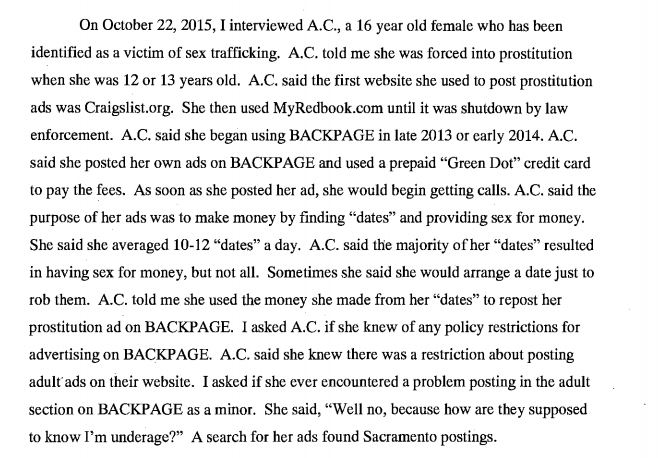 10. An older man in a relationship with a 15-year-old advertised her for prostitution on Backpage, which allowed law enforcement to find her and arrest the man.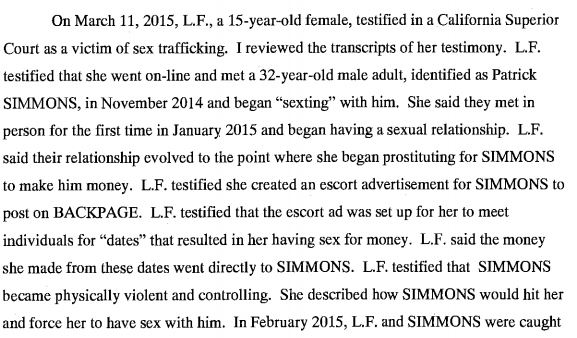 Hmmm, under our new logic of online liability, shouldn't the website where the 32-year-old first picked up the 15-year-old be found guilty of statutory rape?
11. Backpage derived 99 percent of revenue from adult ads during a time when the only ads it charged for were adult ads.

12. Adult women can make a lot of money independently selling sex on Backpage

Read the whole thing here.