LeBron James: Police Brutality a 'Scary Ass Situation' and 'All Lives Do Matter'
Will stand for national anthem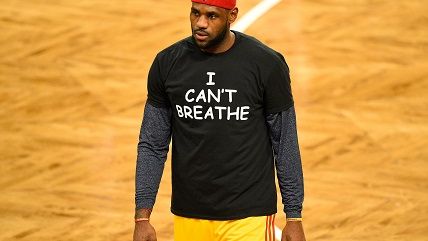 (Rich Kane/Icon Sportswire 781/Rich Kane/Icon Sportswire/Newscom)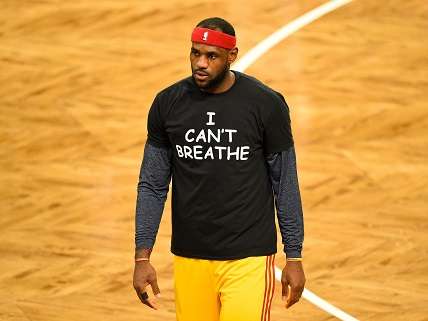 LeBron James was asked at this week's NBA media day whether he would join San Francisco 49ers second-string quarterback Colin Kaepernick and other athletes in sitting for the national anthem as a protest against police brutality.
"First of all, I'm all in favor of anyone, athlete or non-athlete being able to express what they believe in in a peaceful manner," James, a member of the championship-winning Cleveland Cavaliers told the press. "Standing for the national anthem is something I will do, that's who I am that's what I believe in, but that doesn't mean I don't respect and don't agree with what Colin Kaepernick is doing."
James said he didn't like the negative attention Kaepernick was getting from "some people," saying his protest was the most peaceful he had seen, and that he didn't ask anyone else to join him.
Later at the same presser, James was asked about the opening of this year's ESPY awards, where James was joined by three other basketball players to urge athletes to be more socially active. James told other athletes they had to "go back to our communities, invest our time, our resources, help rebuild them, help strengthen them, help change them." Last week, the NBA sent a memo to tell players to contact the league and union officials about coming up with ways to create "positive change" in their community.
"We're not politicians, so we weren't up there saying America is bad and things of that nature," James explained at this week's press conference, "that's not our position, because America has done so many great things for all of us." James said his and the other players' intentions at the ESPYs was to "continue the conversation" and that the league's memo was a success that came out of that.
In talking about police brutality, James mentioned his own children, and talked about his oldest son, who is 12. "I look at my son being four years removed from driving his own car and being able to leave the house on his own," James said, "and it's a scary thought right now to think that if my son gets pulled over, and you tell your kids if you just comply and you just listen to the police they will be respectful and things will work itself out and you see these videos that continue to come out."
"It's a scary ass situation," James continued, "that if my son calls me and says he's been pulled over, that I'm not that confident that things are going to go well, and my son is going to return home.
James insisted neither he nor anyone else had all the answers, and that's why he wanted "the conversation to continue to keep going."
"Because I'm not up here saying that all police are bad, because they're not, I'm not up here saying that all kids are greats and all adults are great because they're not," James explained, "but at the same time all lives do matter and it's not just black or white, it's not that, it's everyone, it's tough being a parent right now, when you have a pre-teen, but the conversation is continued from the ESPYs and that's definitely a good thing."
In December of 2014, LeBron James joined several other NBA players in wearing "I can't breathe" t-shirts to protest the killing of Eric Garner by police in New York City.