USA Today Reporter Blows Jill Stein's Cover; Candidate Arrested at Debate Site
Third party candidates apparently not allowed anywhere near presidential debate in case voters become aware of other choices.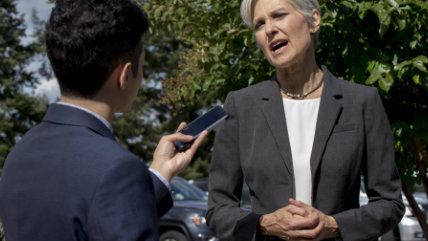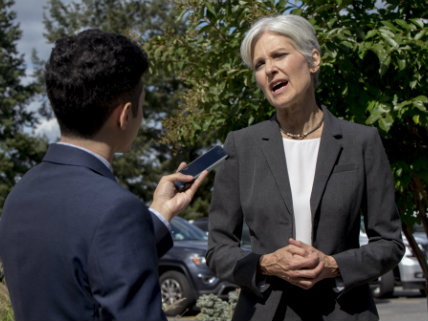 Media fact-checking of the first presidential debate started before the candidates even arrived on Monday.
Jill Stein, the Green Party nominee, did not qualify for the debate (even though Monday's event undoubtedly would be improved by the inclusion of additional candidates like Stein and Gary Johnson) because she is not polling at 15 percent. Undeterred by the arbitrary rules set by the Commission on Presidential Debates, it appears that Stein intended to show up at the debate site anyway—until her cover was blown by a Eliza Collins, a reporter for USA Today.
I'm pretty sure Jill Stein just boarded the media bus at the Hofstra University #Debates2016

— Eliza Collins (@elizacollins1) September 26, 2016
Stein told the newspaper in August that she was planning to crash the debate. She did the same thing four years ago, and the stunt ended with Stein handcuffed to a chair.
USA Today reported that Collins' tweet "scrambled law enforcement officials" who tracked down Stein on the Hempstead, New York, campus of Hofstra University, where the debate is being held tonight.
Stein's campaign says she was on her way to record an interview with MSNBC when she was "escorted off the campus."
.@DrJillStein being escorted off the campus of #Hofstra: "This is what democracy looks like." #debatenight #Debates2016 pic.twitter.com/14plxTMqBN

— lancegould (@lancegould) September 26, 2016
The campaign is planning a protest with supporters outside the debate site tonight.
"The Commission on Presidential Debates is trying to exclude myself and Gary Johnson from the debate on Monday night on the campus of Hofstra University," Stein wrote on Facebook earlier this week. "I'm going to be there anyway. The American public has a right to hear real debate about real issues affecting real people."
Unfortunately for Stein, the area around Hofstra is teaming with more than 1,000 law enforcement officials and "and various checkpoints have been set up throughout the sprawling campus to avoid people without credentials from gaining access to secure areas, according to the Long Island Press.
If you want to hear from candidates who aren't Hillary Clinton and Donald Trump tonight, check out Reason's livestream with Johnson and his runningmate Bill Weld.
Even Trump thinks they should get to debate: