In 3D-Printed Gun Case, Federal Court Permits Speech Censorship in the Name of Alleged National Security
Prior restraint keeps blueprints off the Internet.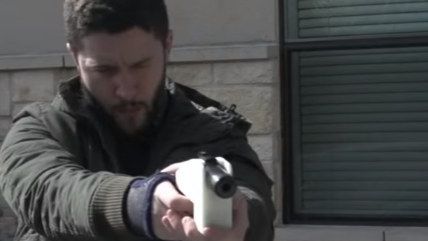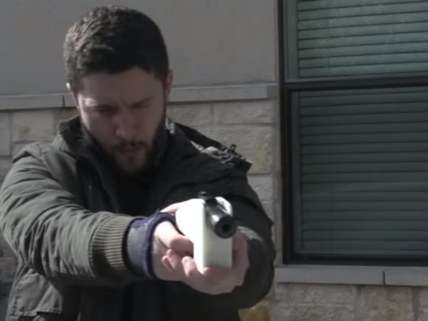 Defense Distributed's blueprints for 3d-printed guns will remain offline and censored for now. Well, actually, they're probably not offline and you can find them if you know where to look. But a federal appeals court panel has rejected an attempt by the company to stop the State Department's order censoring the company itself from hosting its blueprints online.
Reason's Brian Doherty has been extensively covering Cody Wilson and Defense Distributed's fight against the State Department's unusual tactics in enforcing weapon export laws. Technically the company isn't exporting any weapons. It is providing information that allows people anywhere in the world to use 3d-printers to create the pieces that make a gun.
The State Department's demand that Defense Distributed not host the files then is clearly censorship. But is such censorship legal? Several members of Congress had submitted an amicus brief saying that the State Department had drastically overstepped its bounds by interpreting federal law as allowing them to censor online information.
But for now, the 5th Circuit Court of Appeals declined a request for an injunction to stop the State Department's censorship demands. It has ruled that the alleged harms the State Department claims will occur if the information is made available outweighs the temporary harms faced by Defense Distributed for being censored:
The fact that national security might be permanently harmed while Plaintiffs-Appellants' constitutional rights might be temporarily harmed strongly supports our conclusion that the district court did not abuse its discretion in weighing the balance in favor of national defense and national security.
That is an awful lot of heavy lifting that "might" is doing, and an awful lot of judicial deference. There is a footnote explaining further that the potential for harm to national security involves not just the existing files but potentially future files that provide for even more weapon production outside the control of the federal government.
Note that this ruling does not address whether it believes Defense Distributed arguments are legitimate. This is not a ruling about the underlying case. The panel is just going to defer to the Department of State for now while the underlying arguments are fought over.
Not all three judges agreed. Judge Edith Jones dissented, saying the panel had failed to take the issues of prior restraint and censorship seriously, pointing out that the State Department had never previously sought to block information presented on the Internet. She also argues that the court had failed to analyze the case with the right level of judicial scrutiny. She warns:
Undoubtedly, the denial of a temporary injunction in this case will encourage the State Department to threaten and harass publishers of similar non-classified information. There is also little certainty that the government will confine its censorship to Internet publication. Yet my colleagues in the majority seem deaf to this imminent threat to protected speech. More precisely, they are willing to overlook it with a rote incantation of national security, an incantation belied by the facts here and nearly forty years of contrary Executive Branch pronouncements.
Jones' dissent is actually much longer than the majority ruling and delves heavily into regulations and precedents. She concludes:
By refusing to address the plaintiffs' likelihood of success on the merits and relying solely on the Government's vague invocation of national security interests, the majority leave in place a preliminary injunction that degrades First Amendment protections and implicitly sanctions the State Department's tenuous and aggressive invasion of citizens' rights. The majority's nondecision here encourages case-by-case adjudication of prepublication review "requests" by the State Department that will chill the free exchange of ideas about whatever USML-related technical data the government chooses to call "novel," "functional," or "not within the public domain." It will foster further standardless exercises of discretion by DDTC censors.

Today's target is unclassified, lawful technical data about guns, which will impair discussion about a large swath of unclassified information about firearms and inhibit amateur gunsmiths as well as journalists. Tomorrow's targets may be drones, cybersecurity, or robotic devices, technical data for all of which may be implicated on the USML. This abdication of our decisionmaking responsibility toward the First Freedom is highly regrettable. I earnestly hope that the district court, on remand, will take the foregoing discussion to heart and relieve Defense Distributed of this censorship.
Read the full decision here. Below, ReasonTV on Wilson, Defense Distributed, and 3d-printed weapons:
UPDATE: Cody Wilson tweeted that he would be petitioning for an en banc (full court) hearing. If he's denied, he will appeal.