Report: Driven By Chicago, Murder Rate Will Rise Again, But No 'Wave'
"Warnings of a coming crime wave may be provocative, but they are not supported by the evidence."
(Terrence Antonio James/TNS/Newscom)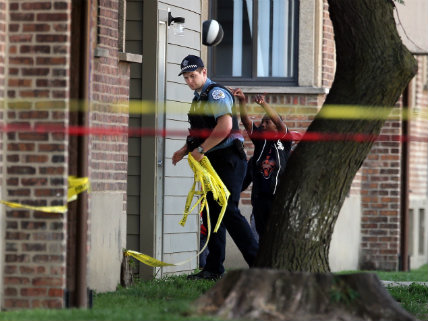 The U.S. murder rate is expected to increase again this year, jumping 13 percent over the previous year, according to a new report by the Brennan Center for Justice released Monday. However, the increase is largely due to the spike in murders in Chicago, while crime overall will only rise slightly, the report said.
Just how much violent crime has been rising, and whether it signals the end of the historically low crime rates that have prevailed over the last couple of decades, has become an intense election-year debate. Donald Trump has made fighting violent crime a key part of his stump speech, warning crowds that crime and lawlessness are "out of control."
"Decades of progress made in bringing down crime are now being reversed by this Administration's rollback of criminal enforcement," Trump said in his July speech to accept the Republican nomination for president. "Homicides last year increased by 17 percent in America's fifty largest cities. That's the largest increase in 25 years."
However, the Brennan Center, updating its findings from earlier this year on the 30 largest cities in the U.S., found that Los Angeles and Chicago are the major drivers of the increase in violent crime. While the U.S. murder rate is expected to climb by more than 30 percent from 2014 to 2016, half of that increase is due to Chicago alone.
"[T]here is not a nationwide crime wave, or rising violence across American cities," the report concluded. "Warnings of a coming crime wave may be provocative, but they are not supported by the evidence."
Murder in Baltimore and Washington, D.C., which contributed to the uptick in murders in 2015, is expected to drop this year. Violent crime is expected to rise by 5.5 percent nationally, and crime overall will increase by 1.3 percent, but 12 cities will see a drop in crime, the report said. The only city to see back-to-back increases in murder is Chicago.
Criminal justice reform groups have cautioned that it's far too early to declare a trend over a one or two-year shift in crime, and they seized on the latest findings. Ronald Serpas, the former superintendent of the New Orleans Police Department and the chairman of Law Enforcement Leaders to Reduce Crime and Incarceration, said in a statement Monday that "irresponsible claims that crime is out of control are not backed up by the facts, as new data analyses show."
However, not everyone agreed with the Brennan Center's optimistic view that "the average person in a large urban area is safer walking on the street today than he or she would have been at almost any time in the past 30 years." Douglas Berman, a professor at the Moritz College of Law who blogs at Sentencing Law and Policy, noted that the increases could not be discounted:
[W]ith all due respect to the work of the fine folks at the Brennan Center, I am troubled that this report seems presented in a way that tries to downplay a number of disconcerting numbers. For starters, a 1+% increase in overall crime is a slight increase, not crime "remaining the same." Moreover, I do not think it fair to assert that crime "remains at an all-time low" just after reporting it is going up a little bit. Similarly, a 5+% increase in violent crime strikes me as a notable increase, not just a "slight" one. And finally, the fact that murder is projected to be up another 13+% in 2016 after a significant spike up in 2015 does, at least in my view, lend credence to at least the claim that the US in now in the midst of a "new nationwide [homicide] crime wave."
The FBI is expected to release its nationwide crime data for 2015 on Sept. 26, the morning of the first presidential debate.