Video: Student Forced to Remove Trump Hat, 'You're Not Allowed to Share Hate Language'
'You've got to take the hat off or I'm going to write to the president of the university...'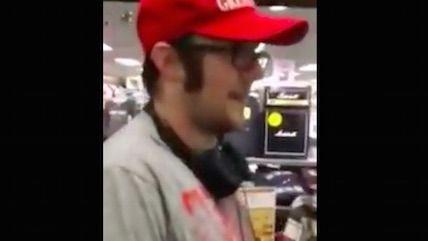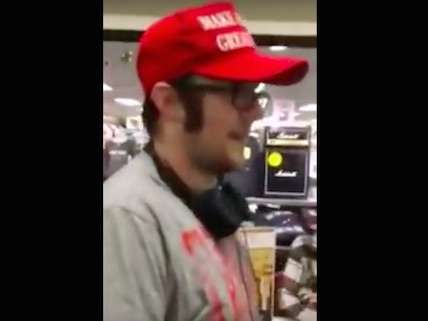 Students at a Canadian university confronted another student who was wearing a "Make American Great Again" hat—when he refused their demands to remove his hat, the students grabbed it off his head.
You've got to take it off," insisted one female student, later identified as Zoe Slusar, a former vice president of Mount Royal University's student life program.
The student wearing the hat—Matt Linder, according to CBC—argued that he was exercising his free speech rights. "I'm not allowed to support a political candidate?" he asked.
"You aren't allowed to share hate language in the university," Slusar replied.
She didn't back down. Eventually she even threatened to report Linder to university authorities. "You got to take the hat off or I'm going to write the president of the university and he's going to come talk to you," she said.
Before that could happen, another student grabbed the hat off Linder's head. You can see a video of the encounter here.
MRU subsequently affirmed Linder's right to wear the hat in a statement: "Mount Royal University respects individuals who exercise their constitutionally-protected right to freedom of expression."
Slusar later admitted that Linder did indeed have a right to wear the hat:
"He is allowed to wear the hat. As a student, I disagree with what the hat represents. I have diverse friends (culturally and sexually) who would drop a class if the person wearing the hat was sitting in the room with them, because they would feel unsafe. Given the deeper issues of intolerance and oppression represented by the hat, I disagree with it."
I disagree with the sentiment behind the hat, too (although I would dispute that it's mere presence makes a room less safe). A university is a place where people with different views should challenge each other, and Slusar had every right to call out Linder for supporting a hateful, fascistic charlatan. I applaud her for doing so. But when she denied Linder the right to express his views, she succumbed to the same authoritarian impulse that animates Trump.
And look—Trump supporters love this kind of thing. They are out there, on college campuses, waiting for an excuse to claim their free speech rights were violated. This is a clear case of an entitled student, drunk on her moral righteousness, giving Team Trump the ammunition it needs to continuing making its case against political correctness.