Clinton Campaign to Release Health Docs, Schumer Also Had Pneumonia, Arson at Mosque of Orlando Shooter: P.M. Links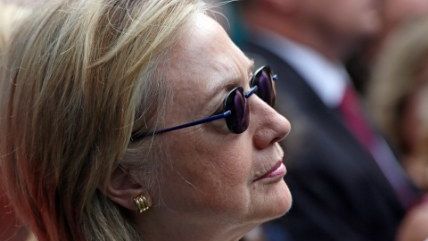 (Oakes De Mandeville/Sipa USA/Newscom)
Oakes De Mandeville/Sipa USA/Newscom

Now that the Hillary Clinton campaign can't actually hide information about Clinton's health, they're going to release additional medical records this week.

New York Sen. Chuck Schumer also recently had pneumonia.
Somebody appears to have set the Florida mosque where Orlando shooter Omar Mateen attended on fire, authorities say. Nobody was at the mosque at the time and firefighters were able to extinguish the flames.
Somebody trashed a September 11 memorial at Occidental College in Los Angeles.
Former British Prime Minister David Cameron is resigning from Parliament, effective immediately.
Eleven people, including seven children, were killed in a house fire in Memphis.
"Pennsylvania Woman Injured After Being Struck by a Fish That Fell From the Sky."
Follow us on Facebook and Twitter, and don't forget to sign up for Reason's daily updates for more content.