Airbnb Helps Flooding Victims and Volunteers While Louisiana State Rep Wants More Red Tape
If the government can't do disaster recovery as well as the private sector, could it at least not make things any harder?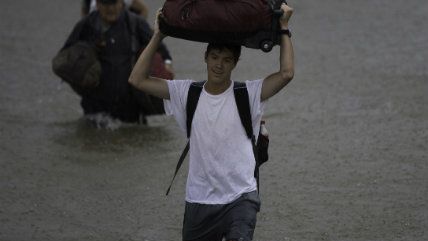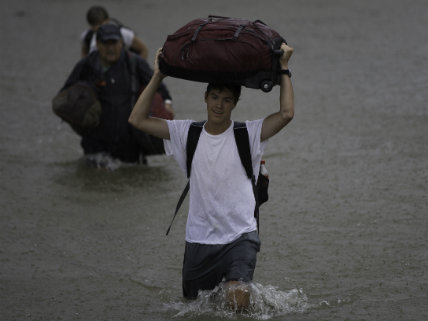 When torrential rain left thousands of Louisianans homeless last month, hundreds of volunteers flooded into the state to help pick up the pieces.
And when those volunteers needed a place to stay—along with some flood victims who were unable to return to their homes in the wake of the disaster—it was Airbnb that helped to answer the call. The room-sharing service waived all service fees for rooms in Louisiana and allowed individual property owners to rent rooms for free in the weeks after the flooding—essentially turning Airbnb into an online marketplace for free bedding when a warm place to sleep was most important.
"We have an ability to help people, at least in the short term, to get a comfortable bed, a home-cooked meal ? which is a very different experience from what they'd get in a shelter," Airbnb spokesman Nick Shapiro told The Huffington Post.
Shapiro said at least 180 Airbnb users took advantage of the free posting option, which remained live until the first week of September—about three weeks after flooding caused by biblical rainfall (one part of the state recorded 31 inches of rain in less than two days) killed 13 people and left more than 20,000 homeless.
It's not the first time Airbnb activated its disaster response tool, which first launched in the wake of the so-called "superstorm Sandy" that hit New York City in 2012. The company has used the disaster response option to waive all fees and allow for free rentals on at least 20 occasions, the Huffington Post reported.
The speed and generosity of Airbnb's response to the flooding in Louisiana (or after Sandy) stands in stark contrast to government-led disaster recovery efforts. After Sandy, it took four days for the first FEMA relief center to be operational—and then it ran out of water on the first day. Poor distribution networks left thousands of gallons of FEMA-provided gasoline in places where it wasn't needed while people in other parts of the New York metro area experienced shortages.
Louisiana is no stranger to the good intentions and questionable results of federal disaster recovery efforts, of course. There was no Airbnb when Hurricane Katrina hit the state in 2005, but it was another private sector business—Wal-Mart—that stepped in to provide valuable supplies along a better distribution network than FEMA had.
"While state and federal officials have come under harsh criticism for their handling of the storm's aftermath, Wal-Mart is being held up as a model for logistical efficiency and nimble disaster planning, which have allowed it to quickly deliver staples such as water, fuel and toilet paper to thousands of evacuees," the Washington Post reported at the time.
That shouldn't really be surprising. After all, successful businesses survive by getting people the things they need when they need them. Wal-Mart is always going to be better at providing supplies after a disaster because it practices doing that (albeit with lower stakes) every single day. The same is true with Airbnb when it comes to providing people with a place to sleep—it has already built the online network necessary to connect people, and it has access to millions of users who are already willing to open their homes and bedrooms to strangers. After Sandy, and in anticipation of future storms, Airbnb sent hurricane preparedness information to 100,000 users in states bordering the Gulf of Mexico and the Atlantic Ocean.
No matter how many fake disaster drills FEMA runs, the bureaucrats overseeing the federal response to floods and fires will never be able to replicate that.
In Louisiana, some state lawmakers actually want to make things worse. State Rep. Jonathan Perry, R-Lafayette, has introduced a bill requiring volunteers to have government-issued permission slips before they would be able to help with disaster recovery. Perry's proposal would require training and certification for so-called "Good Samaritans" like the "Cajun Navy" that provided boats to help flood victims evacuate and rescue some of their belongings.
If the government can't do disaster recovery as well as the private sector, could it at least not make things any harder?