Colin Kaepernick Calls Out Hillary Clinton Email Scandal Hypocrisy, Says Donald Trump Is 'Openly Racist'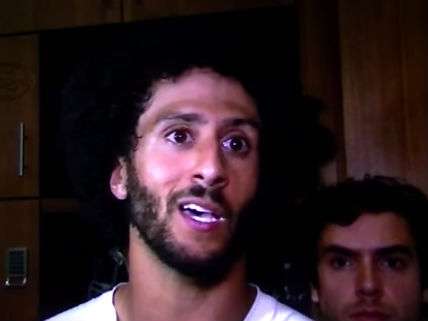 San Francisco 49ers quarterback Colin Kaepernick became the country's latest collective objet d'obsession when he refused to stand for the national anthem at a pre-season game this weekend. Kaepernick said he had stopped standing for the anthem at the beginning of the pre-season but that it was only noticed now.
He said he had made the decision because the lack of accountability for police officers who kill in the line of duty. Kaepernick pointed to the fact that most officers are placed on paid leave in such situations (due in large part to collectively bargained union contracts), as well as to videos circulating of violent police encounters and violent encounters involving police officers and veterans (in response to a question about veterans who might feel "disrespected" by people not standing for a flag).
Later in the post-game interview, responding to questions about timing (some sports observers speculate Kaepernick is looking for an out at the tail-end of his contract while Kaepernick insists sitting for the anthem wasn't something he planned ahead of time), Kaepernick also pointed to the woeful 2016 presidential race. "I think the two presidential candidates that we currently have also represent the issues that we have in this country right now," Kaepernick told reporters.
Asked to elaborate, Kaepernick cited Hillary Clinton's reference to black teenagers as "super-predators" (in the context of pushing tough on crime measures while her husband was president in the 1990s) and called Donald Trump "openly racist" (although did not offer specifics). "I mean, we have a presidential candidate who deleted emails and done things illegally and is a presidential candidate," Kaepernick noted. "That doesn't make sense to me. Cuz if that was any other person you'd be in prison, so what is this country really standing for?"
It's heartening to see Kapernick avoid falling for the left's suggestion that the Clinton email scandal was no big deal or somehow a product of anti-Clinton sentiment and not of her own reckless actions. Federal prosecutors have already rejected a "Hillary defense" put up by a U.S. sailor facing charges for taking classified photos on a nuclear submarine. Democrats, meanwhile, killed criminal justice reform over their opposition to just the kind of mens rea deference the FBI afforded Clinton, declining to prosecute her because of a lack of clear criminal intent. Holding Democrats accountable for thwarting criminal justice reform would be an excellent place for Kaepernick to start what he says will be his continued advocacy.
Watch the entire interview (relative comments start at 16:33) below: