Gary Johnson Campaign's July Financials Analyzed
62 percent of July's $1.6 million take went to consultants; August intake already announced as at least $3 million.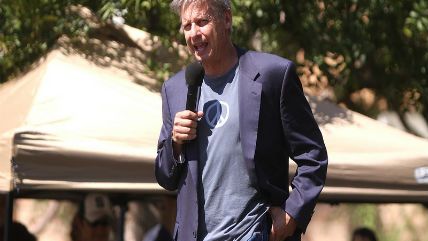 George Phillies, longtime Libertarian Party (L.P.) member, activist, and frequent candidate likes to analyze the financial comings and goings of L.P. candidates in great detail. As I reported back in May, he was dissatisfied with how Gary Johnson's 2012 presidential campaign with the L.P. decided to spend its lucre.
The summation of his book-length analysis/complaint regarding Johnson '12:
His campaign raised two and a quarter million dollars in private donations, $632,017 in Federal campaign matching funds, and ended $1,538,118 in debt, a total over 4.4 million dollars. Of that, $627,000 went for general election outreach and $240,000 went for nominating outreach. That's under 20% of campaign dollars earned or borrowed on outreach.
Phillies has issued a similar analysis of the July numbers for Johnson's current campaign, based on a close read of its Federal Election Commission (FEC) filings.
From Phillies' analysis, regarding just July's spending and intake:
The campaign had cash on hand at the start of the month of $459.063. Its Receipts This Period were $1,602,810. It spent $856,518, leaving it at the end of July with Cash on Hand of $1,205,355.

$64,741 or 7.6% went to classical advertising.
$111,877 or 13.1% went to printing and mailing houses.
$530,699 or 62% went to consultants.

….Governor Weld promised $100,000 for ballot access. Between ballot access, ballot access consulting, and a $2500 Presidential Election Filing Fee in West Virginia, we see a total of $12,946…..

The campaign traveled a great deal. Air fares came to $34,295 for 92 flights. That's an impressive amount of air travel for one month. Lodging came to only $4324. Car rental, cab fare, train fares, and fuel for car travel came to nearly $2995. $346 was spent on travel insurance.

….Campaign Consulting came to nearly $490,000. That includes $445,000 to Liberty Consulting Services, $13,000 to Carlos Sierra, $10,000 to Joseph Hunter, $5650 to Chris Thrasher, $4193 to Phil Kregel, $3000 to Pojunis Communications, $2666 to Steve Kerbel, $2600 to Tom Mahon, $2032 to Lou Jasikoff, and $480 to David Valente.
What Phillies characterizes as "other sorts of consulting," including media, digital, and social media monitoring, add up to another approximately $40,000.
The Johnson campaign has done even better for itself with money in August, from the information already public, though not official FEC reports.
The campaign announced on August 18 that it had raised $3 million in what it called the last two weeks, so total August numbers should be even higher than that, as compared to July's $1.6 million in receipts.