Watching Porn Predicts Divorce? A Few Reasons To Be Skeptical
Watching porn "may have negative effects on marital stability," said sociologist Samuel Perry.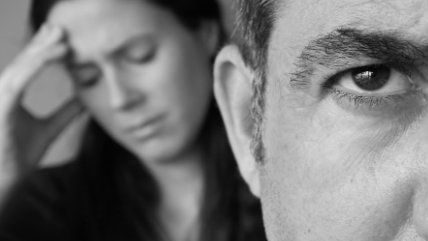 (Rafael Ben-Ari/Chameleons Eye/Newscom)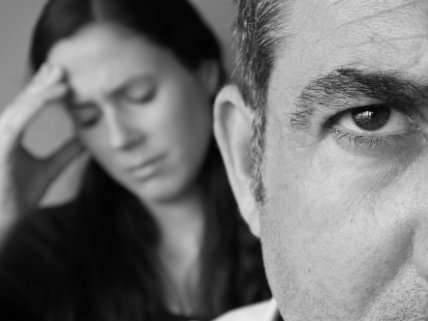 For married folks, watching pornography can nearly double the divorce risk—or at least that's how a new study on the topic is being spun. Behind the dire headlines, however, lies a much less alarming scenario.
Let's start with what the study, "Till Porn Do Us Part? Longitudinal Effects of Pornography Use on Divorce," actually measured: using longitudinal data from America's General Social Survey, researchers honed in on married respondents who initially reported that they didn't consume pornography but started watching it at some point before they were next surveyed (a group that comprised about 7 percent of all respondents). This group was compared to married respondents who never reported watching any pornography.
Led by Samuel Perry, an assistant professor of sociology at the University of Oklahoma, the researchers discovered that beginning to watch porn between survey waves was associated with an increased likelihood of getting divorced by the next survey period, compared to couples who said they never watched porn. Overall, "beginning pornography use between survey waves nearly doubled one's likelihood of being divorced by the next survey period, from 6 percent to 11 percent, and nearly tripled it for women, from 6 percent to 16 percent," said Perry.
There are several plausible explanations for this finding that don't posit porn causing divorces. Perhaps for those who don't watch porn when they first get married, taking up the habit signals something going wrong in the relationship—a lack of sexual satisfaction, more time being spent alone, etc. In this scenario, viewing porn and divorce are both symptoms of marital unhappiness. Or perhaps people prone to watching porn are, in general, somewhat more likely than those who don't to struggle with monogamy, value sexual variety, eschew strict religious rules on sex and marriage, or possess some other trait that could cause a higher likelihood to divorce; put the reverse way, those who have never watched porn might be more beholden to cultural or religious mores against both adult entertainment and divorce. In this scenario, viewing porn and getting divorced (or doing neither) are both rooted in some third factor related to values or personality.
Perry and his team did entertain some of these possibilities, examining how things such as age, length of time married, religious beliefs, and marital happiness affected the link between porn and divorce. And indeed, these things did have a moderating influence, leading Perry to conclude that "viewing pornography, under certain social conditions, may have negative effects on marital stability" (emphasis mine).
What we wind up with isn't Watching Porn Doubles Your (i.e., everyone's) Likelihood of Divorce! but that for some couples—those who abstain from porn at the beginning of their marriage and are likely to be younger, married for a shorter time period, and less religious—starting to watch porn is linked to likelihood of divorce in some indeterminate way.
Because Perry's paper was just presented at the 2016 American Sociological Association conference Saturday and has not yet been published (or peer-reviewed), there are also large gaps in what we know about the data in question. I would be interested to learn how the group compare to couples where one or both spouses said from the beginning that they sometimes watched porn.
Vocativ talked to neuroscientist Nicole Prause, who has done a lot of her own research on pornography's effects, about the study, and she pointed out several problems. "Since masturbation almost always occurs with sex film viewing, [not controlling for masturbation] s a gross oversight,," Prause said. She also faulted Perry's team for failing to control for other variables, such as job loss, that might explain "greater free time that would allow more masturbation, but also stress the relationship."