Will Homeland Security Continue to Use Private Prison Companies?
After the Justice Department announced it will stop contracting with private prisons, advocacy groups are already pressuring Homeland Security to follow suit.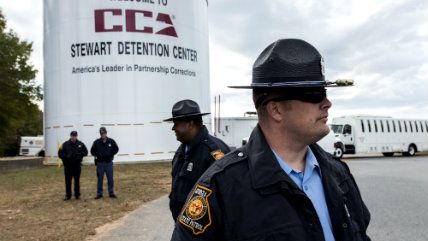 (Brian Cahn/ZUMA Press/Newscom)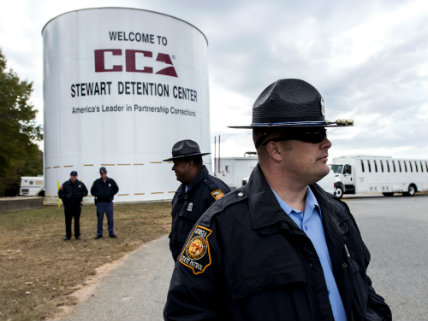 The Justice Department's surprise announcement Thursday that it will phase out its contracts with private prison companies sent shockwaves through the criminal justice world and private prison industry, but the bigger question is whether the decision will pressure the Department of Homeland Security (DHS) to sever its considerably larger ties with private contractors as well.
As I noted yesterday, the Justice Department's Bureau of Prisons contracts with private companies to run 13 prisons, which house about 12 percent—or 22,000 inmates—of the federal prison population, most of them foreign nationals. But private prison contractors currently run 46 U.S. Immigrations and Customs Enforcement (ICE) immigrant detention centers, housing about 70 percent—about 24,000 people a day on average—of the detainees held by ICE.
While the stocks of major private prison companies were taking a nosedive on the news of the DOJ announcement, The Washington Post reported just this week on a sweetheart $1 billion deal between DHS and Corrections Corporation of America, the largest prison company in the U.S., to build a huge new facility to house Central American asylum seekers. In 2015, CCA made $221 million, 13 percent of its overall revenue, from ICE contracts, according to a Center for American Progress report.
Asked if ICE would continue to contract with private prison companies, a spokeswoman said the agency "remains committed to providing a safe and humane environment for all those in its custody. For individuals in its custody, ICE seeks to reduce transfers, maximize access to counsel and visitation, promote recreation, improve conditions of confinement and ensure quality medical, mental health and dental care."
Which doesn't really answer the question one way or the other, but an ICE official also noted that ICE's immigrant detention facilities serve very different purposes than Bureau of Prison facilities. ICE detention centers, the official said, are not for punitive or rehabilitative purposes, but exist to hold detainees awaiting resolution of their immigration cases or until their removal order is completed.
However, the detention centers, especially ones used to house migrant families, have been accused by watchdogs and critics of inhumane conditions and unethical behavior.
GEO Group, a private prison company that runs one of those immigrant detention centers, strongly denied the accusations.
The three major private prison companies that the Bureau of Prisons contracts with say the Justice Department's decision was based on a faulty inspector general report that failed to take into account the different populations between their facilities and regular BOP prisons. Their facilities, they argue, house mostly foreign nationals, many of whom are violent gang members.
Civil liberties groups and critics of private prisons are already putting pressure on the Department of Homeland Security to follow suit. David Fathi, director of the American Civil Liberties Union's National Prison Project, called the Justice Department's announcement "an important and groundbreaking and decision."
"With its announcement today, the Justice Department has made clear that the end of the Bureau of Prisons' two-decade experiment with private prisons is finally in sight," Fathi said. "The ACLU applauds today's decision and calls on other agencies — both state and federal — to stop handing control of prisons to for-profit companies."
Rebecca Vallas, the managing director of the Center for American Progress' Poverty to Prosperity Program, said the DOJ decision a "long overdue step with both actual and symbolic value."
"Too many for-profit prisons have become havens of brutal force, unlivable conditions, inadequate nutrition, and denial of needed medical and mental health care, driven by incentives to keep costs down," Vallas said. "The Department of Homeland Security and the states should follow DOJ's example and bring their own contracts with private prisons companies to an end."
Vallas also called on the government to stop contracting with for-profit prison transport services, which have come under fire following a scathing news investigation by The Marshall Project, which found at least four people have died since 2012 in prison extradition vans run by a private company.
Vallas said for-profit prison transports are "home to notoriously hideous and inhumane conditions: inmates shackled for days on end until their wrists and ankles swell and bleed, forced to urinate and defecate on themselves for lack of bathroom stops, and female inmates sexually abused by guards."