A Single Police Officer's Killing Is a Terrible Reason to Bring Back the Death Penalty
The governor of New Mexico uses emotional response to call for new executions.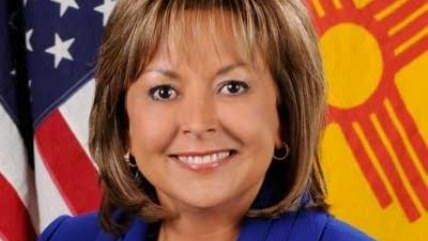 New Mexico Gov. Susana Martinez wants to get ahead of those using the recent killings of police officers to transform their occupation into an "identity" to be protected by hate crime laws.
Exactly one officer in New Mexico has died in the line of duty this year—Jose Chavez, shot to death during a traffic stop. A fugitive from Ohio has been charged with murder in Chavez's death.
Martinez wants to use this death and the recent killing of a child as an excuse to restore the death penalty in New Mexico. But she would only want to use the death penalty for those who kill cops or children. From a statement to the Albuquerque Journal this week:
In a statement Wednesday, the two-term Republican governor told the Journal, "A society that fails to adequately protect and defend those who protect all of us is a society that will be undone and unsafe.

"People need to ask themselves, if the man who ambushed and killed five police officers in Dallas had lived, would he deserve the ultimate penalty? How about the heartless violent criminals who killed Officer Jose Chavez in Hatch and left his children without their brave and selfless dad? Do they deserve the ultimate penalty? Absolutely."
Martinez, a former prosecutor, is preparing legislation to introduce next year. The Journal notes that she actually already tried to restore the death penalty in 2011 and failed, so this is obviously an existing position that's looking for a news hook to advance. The Journal also notes that the entire legislature is up for election this year, and so the timing of this announcement is clearly intended to make this a campaign issue.
So far, overall police deaths while on duty are down when compared to 2015, according to the Officer Down Memorial Page, but yes, deaths from gunfire are up significantly when compared to last year. In 2015, 39 officers were killed by gunfire. We're already at 36 for 2016.
That is, nevertheless, a remarkably small number, and it's absurd to even consider the idea of reinstalling a punishment method that has undoubtedly led to the government-ordered deaths of innocent people as an emotional response to the deaths of a single police officer and an 11-year-old girl.
And even if New Mexico were to restore the death penalty only in the cases of the murders of police officers and children, the hate crimes example I mentioned up at the top is instructive. Once the state of New Mexico has the ability once again to execute people for crimes, there's absolutely no reason for anybody to believe that the penalty will stay limited to such a small group of offenders. It's unlikely that anybody who pushed forward the concept of hate crime laws would envision that they'd be applied based on somebody's occupation and more specifically to protect people who themselves have been granted great power by the state itself. And yet, here we are.
And libertarians were doing so well with Martinez, too. She, most notably, signed last year legislation that implemented the toughest reforms to police asset seizure and forfeiture programs in the country, requiring law enforcement agencies to actually get convictions for crimes before they could take and keep people's assets and property. Not that police are necessarily complying, but still.