Arizona Is the Fifth State Where Voters Will Decide Whether to Legalize Pot This Year
If all the measures pass, nearly one in five Americans will live in places where marijuana is legal.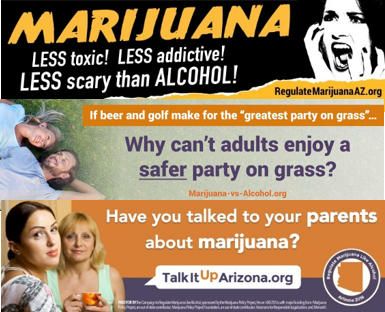 Last week a marijuana legalization initiative officially qualified for the ballot in Arizona, joining similar measures that voters will see this year in California, Maine, Massachusetts, and Nevada. If all five measures pass, the number of states where marijuana is legal for recreational use will more than double, while the population enjoying such tolerance will more than triple, representing nearly one in five Americans.
The Arizona initiative, Proposition 205, would allow adults 21 or older to possess up to an ounce of marijuana in public, grow up to six plants at home, keep the produce of those plants at home, and give other adults up to an ounce at a time "without remuneration." It would create a Department of Marijuana Licenses and Control to oversee the commercial production and distribution of marijuana products, which would be subject to a 15 percent tax on the retail price. The number of retail licenses would be capped at 10 percent of the number of liquor store licenses, or 180 statewide currently. Consuming marijuana "in a public place" would be a petty offense punishable by a $300 fine, but in 2020 regulators could begin allowing marijuana consumption on the premises of retailers.
Arizonans approved medical marijuana by a razor-thin margin in 2010, and it's not clear they're ready to go further. Last October a survey by the Morrison Institute for Public Policy at Arizona State University found that 49 percent of voters thought marijuana should be legalized for recreational use. According to a June 20 poll by OH Insights, 39 percent of likely voters supported broader legalization, 53 percent were opposed, and 8 percent were undecided. By contrast, recent polls in California, which by itself accounts for 12 percent of the U.S. population, have found majority support for legalization.