California Bill Would Make It a Felony for Prosecutors to Withhold Evidence
Spurred by a series of botched murder cases and little accountability, a California lawmaker wants to rein in prosecutorial misconduct.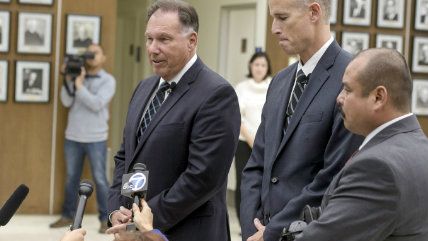 (Joshua Sudock/ZUMA Press/Newscom)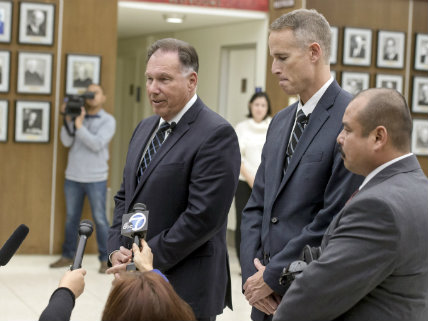 Responding to several highly publicized district attorney scandals that have tainted numerous murder cases, a California state legislator has introduced bill that would make it a felony crime for prosecutors to intentionally withhold or falsify evidence.
Democratic California Assemblywoman Patty Lopez introduced the bill, which would raise prosecutorial misconduct from a misdemeanor to a felony imprisonable by up to 16 months to three years. The bill moved through committee to the full state senate last week.
The justice system in Orange County, California has been under intense public scrutiny since 2014, when a public defender in the capital murder case of Scott Dekraai revealed that the district attorney's office and sheriff's department had been operating a secret jailhouse informant program for years, and hiding that fact from judges and defense attorneys.
Supporters of the legislation say the problems in Orange County are emblematic of problems in jurisdictions across the state and highlight the need for reform. The Orange County District Attorney's Office (OCDA) has consistently denied any intentional wrongdoing and supports the bill as well, but a local attorney union says it will add costly and timely litigation to overburdened courts.
Lopez said in a statement that "accountability for California's prosecutors is critical to ensuring that justice in our courts is truly served."
"I consider prosecutorial misconduct to be a very serious offense," Lopez continued. "The decisions that are made by our criminal justice system can change people's lives and the lives of those around them forever."
The revelations in the Dekraai case have already affected defendants and victims' families in numerous violent cases.
A judge eventually removed the entire OCDA from the Dekraai case—the worst mass shooting in county history—finding that two sheriff's deputies had either lied or intentionally withheld evidence. The disclosures have also led to sentences being overturned or vacated, or charges being dropped, in nearly a dozen other cases so far, including at least six murders and attempted murders.
Last month, the California Fourth Circuit Court of Appeals found 'substantial evidence' that the OCDA retaliated against the judge in the Dekraai case when it had him repeatedly removed from other cases—a tactic known as "papering" a judge.
That same judge presided over a hearing Monday to decide whether the OCDA should be removed another murder trial for allegedly using a doctored California Highway Patrol report to bolster its case.
(Also on Monday, a Santa Ana-based defense attorney filed a $10 million lawsuit against Orange County, claiming he was assaulted by an OCDA investigator in a courthouse last March after he successfully argued for a retrial for his client due to prosecutorial misconduct.)
OCDA chief of staff Susan Schroeder said in a statement, though, that District Attorney Tony Rackauckas "supports this law and believe it should apply to all attorneys."
Nevertheless, Deputy District Attorney Mena Guirguis, president of the Orange County Attorney's Association, told the Orange County Register last week that "there are already safeguards in place to deal with the things the bill is trying to address. There's no evidence there's an explosion of intentional violations."
That's not the opinion of Judge Alex Kozinski, the chief judge of the Ninth Circuit Court of Appeals. "There is an epidemic of Brady violations abroad in the land," Kozinski wrote in a much-cited 2013 opinion, referring to instances where prosecutors failed to disclose evidence. "Only judges can put a stop to it."
Or the findings of a 2010 study on prosecutorial misconduct in California by the Santa Clara University School of Law and Northern California Innocence Project, which said it was a "critical" problem.
"Courts fail to report prosecutorial misconduct (despite having a statutory obligation to do so), prosecutors deny that it occurred, and the California State Bar almost never disciplines it," the report said.
In California's Kern County, for example, deputy district attorney Robert Murray Alan confessed in 2015 to falsifying a transcript to add a defendant's confession to sex with a minor. A state bar judge recommended a one-month suspension of Alan's law license.
Former Kern County District Attorney Ed Jagers was never fined or disciplined at all for putting 25 men in prison through the 1980s and '90s on felony child sex abuse charges that were later overturned. Jagers' misconduct ultimately cost Kern County $9 million in wrongful conviction settlements.
Or, for a more recent example, last week the Ninth Circuit Court of Appeals upheld a conviction for a San Francisco gang murder, despite finding "very troubling" evidence that a police officer gave false testimony and prosecutors withheld information.
Guirguis said Lopez's bill would overburden courts. "Accusations will be made, investigations will have to be done, money will have to be spent, even if those things aren't sustained, it's going to cause a big ol' delay," he told the Orange County Register.
But Lopez said any delays are better than more botched cases.
"Currently, there is a lack of oversight when it comes to these types of violations, and the individuals who are guilty of committing them are rarely disciplined. We must send a clear message that such behavior will not be tolerated," Lopez argued. "Any additional demands that this might place on the system are a small price to pay for preventing wrongful and/or overturned convictions, which are far more time-consuming and costly for taxpayers."