Trump Mocks Media Reaction to ISIS Comments, 'Heroin Babies' Cause Panic, How the Olympics Chill Speech: A.M. Links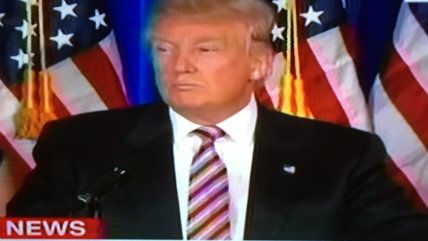 screenshot from CNN

Trump mocked media Friday morning for taking seriously his statement that President Obama was the founder of ISIS. "Ratings challenged @CNN reports so seriously that I call President Obama (and Clinton) 'the founder' of ISIS, & MVP," Trump tweeted. "THEY DON'T GET SARCASM?"

Free-speech and free-press advocates are fighting back against California's attempt to criminalize the publishing of undercover video footage of healthcare providers.
Does the Olympics have "a chilling effect on small businesses' free speech" rights?
It was only a matter of time: "heroin babies" are causing a panic.
Is it wrong for a white college student to request only white roommates? What about when black college students only want to live with other people-of-color?
"In over a half-century, no Democratic presidential candidate has carried white voters with a college degree," said Michelle Diggles, a senior political analyst with Third Way. But Hillary Clinton has been making in-roads with this group, who now favor her to Trump by an average of 8.7 percentage points.
Follow us on Facebook and Twitter, and don't forget to sign up for Reason's daily updates for more content.