New Jersey Bill Would Punish Eating, Drinking While Driving
Laws against texting while driving have been shown to be ineffective. So why is this a good idea?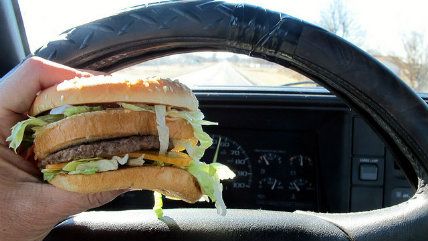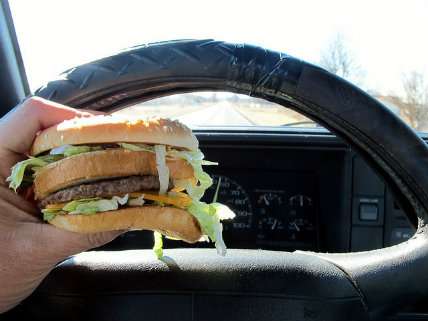 When it comes to driver safety, New Jersey goes further than most states with its laws. Like many places, Garden State legislators have banned texting while driving. Unlike most places, they also prohibit drivers from pumping their own gas to keep them from hurting themselves. Now lawmakers are considering a bill that, if passed, could punish drivers for drinking, eating, or doing anything behind the wheel that isn't driving.
The bill would address what it describes as "the increasing problem of distracted driving." It calls for punishing drivers who do "any activity unrelated to the actual operation of a motor vehicle in a manner that interferes with the safe operation of the vehicle on public road or highway" and imposes three levels of fines depending on the number of times the driver has previously been cited for distracted driving. People who are pulled over for a third offense may get their driver's licenses revoked.
The bill does not define what actions count as distracted driving, which leaves the law's interpretation up to police officers. And though—as Larry Higgs of NJ.com noted—it seems unlikely that people will start getting pulled over for just taking a sip of coffee, the law is so incredibly broad that one can't rule out the possibility of things like that happening.
As Ron Blitzer of LawNewz pointed out, the New Jersey Department of Law and Public Safety has a list of activities the state considers distracting for drivers. This includes tuning a radio, applying makeup, attending to children, and eating. The agency doesn't require that the driver be acting as a danger to others—just that the action could conceivably cause him to become distracted.
But are these kinds of laws effective at preventing accidents and injury? A 2010 study from the Highway Loss Data Institute found laws banning texting behind the wheel failed to reduce the number of crashes, with some states even seeing a subsequent increase in crash rates. A 2014 study in the Journal of Adolescent Health likewise found that the rate of serious car accidents in Michigan went up slightly following that state's 2010 ban on texting while driving.
This has not stopped New Jersey lawmakers from trying to make this bill a law. "I've seen people reading the newspaper driving their cars," said one of the co-sponsors, Assemblyman John Wisniewski (D–Middlesex), to News 12 New Jersey. "The more you do other things while you're driving, the less you are paying attention to the road. The less attention you are paying to the road, the more likelihood that you'll have an accident."
It's hard to deny that distracted driving can be dangerous, but some are already calling the legislation out for going too far. "This proposed distracted driving law is not needed, since three statutes can be used when a distraction causes unsafe actions, like swerving or crossing a line," Steve Carrellas, the policy and government affairs director for the National Motorists Association in New Jersey, told NJ.com. Tracy Noble, spokeswoman for AAA Mid-Atlantic, added that the legislation would be difficult for police officers to enforce.
Wisniewski responded by telling the Associated Press the bill is needed to avoid having to draft additional legislation every time new technology is introduced.
An almost identical 2013 bill (also introduced by Wisniewski) was approved in committee but never made it to a full vote.