The FDA's New Rules for E-Cigarettes Are Already Hurting Vape Shops
New regs took affect on Monday and could be too costly for small companies to compete with Big Tobacco.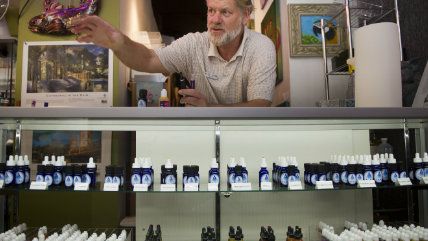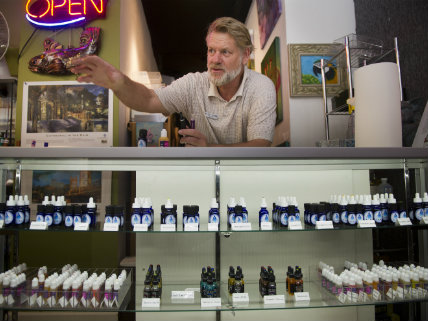 There's no tobacco in electronic cigarettes. That's a fact.
But don't bring facts to the Food and Drug Administration, which on Monday officially began regulating e-cigarettes (and the businesses that make and sell them) under the provisions of the Tobacco Control Act, the 2009 law giving the FDA regulatory power over tobacco products—and apparently things that sort of look and act like tobacco products too.
The consequences are already being felt at places like The Electric Cigarette Lounge in Sacramento, California, which shut its doors for good this week. The store's owner told local TV station KCRA that the FDA's rules snuffed out his business.
Andrew Osborne, the owner of Vapor Trail Electronics in Buffalo, New York, told News 4 that he expects the entire e-cigarette industry to collapse under the new federal rules.
"This is going to wipe out the e-cigarette business and leave Big Tobacco running the industry," Chris Voudris, who owns four retail shops called Vapor Haus in Ohio, told the Dayton Daily News on Monday. "The cost of regulations will be too costly for small companies to compete."
Starting Monday, e-cigarette manufacturers have to register with the FDA. Monday also marked the start of a two year review period during which the FDA will decide which vaping products will be allowed to remain in the marketplace and which ones will be banned.
"They're not being straight forward about what we need to do to keep people and what we can sell and what can be brought to the market now," Jordan Beresko, the owner and president of The Big Vape Theory in Greenville, South Carolina, told WITN-TV. Even after reading through the 100-plus pages of regulations, Beresko says, he's left with more questions than answers.
Manufacturers are not only prohibited from releasing new flavors, devices and products without the FDA's consent, but they also may not make any modifications to existing products, says the American Vaping Association. Under the new rules, any variation of the nicotine level, bottle size, flavors or ingredients in a current product will be treated as a "new" product that will be illegal to sell without preapproval from the FDA.
As Reason's Jacob Sullum has written, this is essentially a slow-motion ban on many vaping products. The FDA's application process will cost $1 million and a separate application will be required for each and every product. Smaller businesses unable to afford the costly application process will likely be driven out of business. The Smoke-Free Alternatives Trade Association, an e-cigarette industry group, says the new rules could wipe out 99 percent of all vaping products, and vape shops are worried too.
The rationale for holding e-cigarettes to the same regulatory standard as traditional, tobacco-containing cigarettes is built on the questionable assumption that Americans who smoke e-cigarettes will end up smoking traditional cigarettes too. In announcing the new rules in April, Health and Human Services Secretary Sylvia Burwell said that increase in e-cigarette use over the past decade had wiped out public health gains from decreased smoking.
"While there has been a significant decline in the use of traditional cigarettes among youth over the past decade, their use of other tobacco products continues to climb – putting a new generation of kids at risk of addiction," wrote Mitch Zeller, director of the FDA's Center for Tobacco Products in a blog post celebrating the new rules.
The new rules also apply to cigars and hookah products, but at least those products actually contain tobacco.
Many e-cigarettes contain nicotine extracted from tobacco, but considering them the equivalent of cigarettes is an affront to common sense and medical science. There's no combustion, no smoke and no tar in e-cigarettes, along with fewer cancer-causing chemicals. . One study from the United Kingdom found that e-cigarettes are 95 percent safer than their combustible cousins. Driving e-cigarettes out of the marketplace, as the FDA's new rules are almost certain to do, will make it harder for nicotine-addicted smokers to kick the habit by taking up a safer alternatives.
Despite all those arguments, perhaps the best example of the absurdity of the FDA's decision to classify e-cigarettes as tobacco products is the simple fact that vaping doesn't involve tobacco. In fact, some e-cigarette makers offer "tobacco free" nicotine that is synthesized in a lab or produced from other types of plants, like tomatoes and green peppers.
In the eyes of the federal government, though, it's all tobacco—even when it's not.