Illinois State's Attorney Hired Own Investigators to Conduct Drug Searches and Seizures
An Illinois state's attorney hired his own investigators to pull over motorists and search for drugs. Now the state supreme court will decide if it was legal.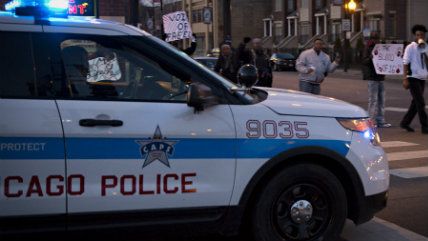 (Nima Taradji/Polaris/Newscom)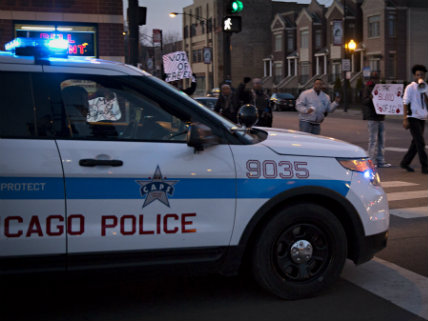 The Illinois Supreme Court will decide later this year whether a state attorney operated outside his authority when he created a drug interdiction team that performed traffic stops and seized motorists' property under asset forfeiture laws.
LaSalle County state's attorney Brian Towne first created a State's Attorney Felony Enforcement (SAFE) team in 2011, hiring several former police officers to patrol a stretch of interstate and intercept drug traffickers. The Madison County state's attorney created a similar team in 2014.
Both of those programs, the only two that exist in the state, have been on hold since June, when an Illinois appeals court upheld lower court rulings that suppressed evidence in five criminal cases, finding that Towne's investigators did not have the authority to perform arrests.
Cara Ringland is a defendant in one of those cases. She was pulled over on Interstate 80 in 2012 when a SAFE team investigator allegedly noticed the mud flaps on the U-Haul van she was driving were out of compliance with regulations. (Ringland's attorney, Stephen Komie, said evidence produced during the initial trial showed Ringland was pulled over because the investigator thought it was suspicious for a woman to be driving a U-Haul van alone.) A search of the van revealed more than 100 pounds of marijuana and $3,300 in cash, all of which investigators seized.
"We cannot fathom how patrolling Interstate 80, issuing warning tickets, and confiscating contraband can be realistically viewed as 'conducting investigations that assist the State's Attorney with his duties,'" the court wrote. "The prosecution of drug dealers and traffickers is indisputably a duty of the State's Attorney; outfitting his own drug interdiction unit is not. Such a statutory construction would effectively give the State's Attorney the power to create and maintain the equivalent of his own police force."
Towne appealed to the Illinois Supreme Court, which will take up the case when it reconvenes this fall.
Towne and the Madison County state's attorney both argue their investigators took drugs off the street and used the would-be drug profits to make their communities safer. However, civil liberties groups say the teams are emblematic of how asset forfeiture—which allows police to seize property without having to convict, or sometimes even charge, the property owner—distorts police practices, incentivizes money-grabs, and lacks due process protections.
The one thing neither side disputes is that the LaSalle County SAFE unit was very good at hauling in drugs and cash.
Komie likened the investigators to bears in Alaska waiting for the annual salmon run. "When the kids run west to east, they're there waiting, and the plan is to catch as many as they can," he said.
Assisted by drug-sniffing dogs and officers from a local police department (which gets a cut of any forfeiture revenues), investigators seized significant amounts of marijuana, methamphetamine, and cocaine, not to mention hard cash. The News Tribune reported in 2014 that the LaSalle SAFE unit "seized $7.9 million in drugs, nearly $900,000 in cash, plus 14 vehicles and another $22,000 in gold and silver."
SAFE team interdictions led to 66 drug convictions, according to an extensive investigation by Chicago Lawyer magazine earlier this year. The investigation turned up public records detailing not just much money the La Salle SAFE team seized, but where that money went. The records revealed the SAFE team had two bank accounts—one for collecting civil asset forfeiture proceeds and the other for drug fines paid by defendants—that swelled to a total of more than $1.7 million by 2015.
The SAFE unit raked in so much money that it basically paid for itself, including the $140,000 annual salaries of the SAFE team investigators. Expenditures from the accounts also included nearly $100,000 to travel to drug law enforcement conferences and $17,000 in per diem payments to Towne and his investigators between 2011 and 2015.
Funds from drug fines were also donated to local groups, "including an adult flag football league, sports programs at a Catholic school, an adult baseball tournament, a middle school seeking funds for an eighth grade trip to Washington, D.C., and a college baseball team coached by an assistant state's attorney in Towne's office, among others," Chicago Lawyer reported.
While Komie said he didn't want to wade into local politics, he said a state's attorney running the equivalent of a police force was "a violation of separation of powers."
"It's not the role of public prosecutor to run a police department, because then you have no watchdog on the police," he said.
Chicago Lawyer magazine alleges Towne's spending may have violated provisions of Illinois' Cannabis Control Act and the Drug Asset Forfeiture Procedure Act, including a section that says: "While forfeiture may secure for state and local units of government some resources for deterring drug abuse and drug trafficking, forfeiture is not intended to be an alternative means of funding the administration of criminal justice."
Of the more than 50 civil forfeiture cases that resulted from traffic stops performed by the SAFE unit, 23 were not tied to any criminal charge, meaning the alleged "drug traffickers" were cut loose after their property was seized. In one case reviewed by Chicago Lawyer, investigators seized 11 marijuana joints and $50,000 in cash. No criminal charges were brought against the driver, who did not contest the seizure.
Ben Ruddell, an attorney for the ACLU of Illinois, said "we shouldn't be surprised to see this kind of policing for profit when our laws incentivize it."
The ACLU of Illinois and several other civil liberties groups have been pressing for reforms of the state's asset forfeiture laws. The Institute for Justice, a libertarian-leaning public interest law firm, gave Illinois' asset forfeiture laws a D- grade for their lax protections for property owners, as well as the fact that revenue from seizures goes back into police budgets.
"This case shows that we desperately need to fix the failed forfeiture laws in Illinois," Ruddell said. "These 'SAFE units' are set up to use these unfair laws to take as much property as possible, whether or not anyone is ever charged with a crime. Once a person's property is seized, the deck is stacked against them in every way imaginable. The property then goes right back to the same officials who seized it, who are allowed use it without meaningful regulation and no accountability."
Townes did not respond to a request for comment for this article.