Black Lives Matter Activists Block U.K. Roads, Jill Stein—Folk Rock Hero, Why London Fellatio Café Won't Happen: A.M. Links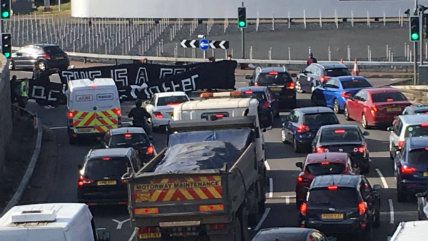 @ukblm/Twitter

British Black Lives Matter activists blocked the road to Heathrow airport, just outside London, Friday and held demonstrations in Manchester, Birmingham, and Nottingham.
This morning we #Shutdown major transport hubs because the conventional avenues to justice have been shutdown to us.

— #BlackLivesMatterUK (@ukblm) August 5, 2016
An Indianapolis police officer shot a colleague in a jealous rage when he saw the man with his estranged wife —investigating a domestic violence incident between the unhappy couple.
Green Party presidential candidate Jill Stein put out a few folk-rock albums in the 1990s as the lead singer of a band called Somebody's Sister. Songs include lines like "Gotta take your vote back from the corporation."
Follow us on Facebook and Twitter, and don't forget to sign up for Reason's daily updates for more content.