Ridiculous Rules For Swordfish, Ceiling Fans, Grain Barges Help Make 2016 The Most Highly Regulated Year In History
Registry of federal regulations surpasses 50,000 pages, on pace to break annual record.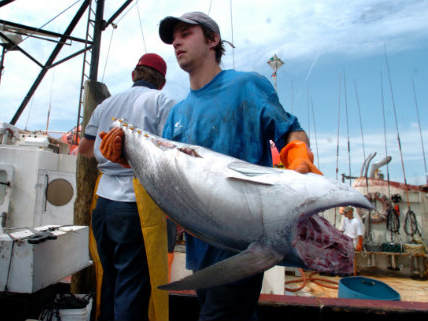 With the approval of new rules for catching swordfish, manufacturing cement, and weighing the contents of grain barges, the federal government's listing of regulations surpassed 50,000 pages in length.
Not all-time. Oh, no, no. That's just for this year.
Don't let anyone tell you that nothing gets done in Washington, D.C., these days, because the bureaucratic cogs in the federal machine have been hard at work this year. It's only August, but the Federal Register is on pace to reach more than 85,900 pages before the end of the year—breaking the all-time record of 81,611 pages that was set just last year.
Ryan Young, a fellow with the Competitive Enterprise Institute who tracks the daily increases in the federal regulatory state, points out that the compliance cost for regulations approved in 2016 along tally between "$3.92 billion and $6.12 billion."
That's a huge amount of money, and even though it will never show up on a bill or be taken out of a paycheck, it's still being paid in hidden ways.
For a perfect example of this, look at the most expensive regulation passed in the last week, according to Young's tracking, which had do with school lunches.
The feds say those new rules for the National School Lunch Program and School Breakfast Program will help save as much as $1.4 billion in long-term costs by reducing childhood obesity. Whether it will accomplish that goal is questionable, but it will only cost a schools an additional 1.5 percent in their food budgets, the government reckons.
Those higher costs will be paid for by students buying lunch, or by school district budgets funded with tax dollars or by federal school lunch subsidy programs funded by tax dollars. It's coming out of someone's pocket, somewhere, that much is certain.
Individually, these are little things. A few more pennies for a school lunch. Extra tests required before motors for ceiling fans can be put on the market. A quota on how many swordfish can be harvested each year. Emissions standards for cement manufacturers. None of these things are likely to force businesses to close and won't inspire headlines or partisan bickering on the campaign trail.
Those little things pile up, like the pages in the Federal Register, to create something much more substantial.
There is little doubt that we'll finish 2016 with the largest version of the federal registry every produced, since this year is also the final year of President Barack Obama's time in office. If history is any guide, you can expect a flurry of new regulations during the last 60 days of his administration—the Clinton administration published some 26,000 pages of "midnight regulations" during the same period in late 2000 and early 2001.
To compare the federal regulatory burden of 2016 to years past, check out CEI's Ten Thousand Commandments project, directed by Vice President for Policy Clyde Wayne Crews, which covers every year since 1996.