Ryan Maintains Trump Endorsement, Obama Turns 55, Jill Stein to Get CNN Town Hall: P.M. Links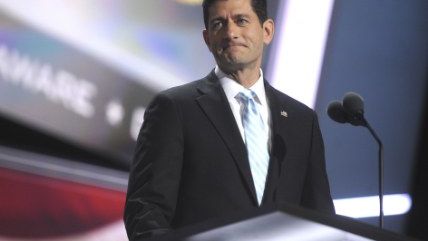 (FMB/Dennis Van Tine/Future Image/WENN/Newscom)
FMB/Dennis Van Tine/Future Image/WENN/Newscom

House Speaker Paul Ryan is standing behind his endorsement of Donald Trump for now, but could withdraw it in the future for some reason, maybe if Trump actually eats a live kitten at a rally or something.

President Barack Obama and Hillary Clinton are facing questions over that $400 million payment to Iran and the circumstances behind it.
Charleston, South Carolina, accused church mass shooter Dylann Roof was assaulted in prison.
CNN will be hosting a town hall session for Green Party nominee Jill Stein.
Today is President Barack Obama's 55th birthday, and supporters are approaching it in a fashion as creepily worshipful as you might imagine.
Feds say a Charlotte, North Carolina, man was plotting to recruit people to fight on behalf of the Islamic State (ISIS).
You'll never guess how Facebook is changing your newsfeed to deal with blatant click-bait headlines.
Follow us on Facebook and Twitter, and don't forget to sign up for Reason's daily updates for more content.