Obama Says Trump Is Unfit for Office, Trump Wants Massive Infrastructure Spending, Crying Baby Not Welcome: P.M. Links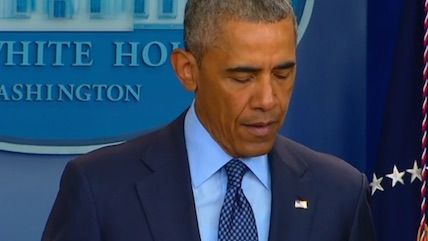 White House

President Obama on Republicans: "The question they have to ask themselves is: If you are repeatedly having to say in very strong terms that what he has said is unacceptable, why are you still endorsing him?"

Donald Trump fulfills dreams of Tea Partiers everywhere, promises half a trillion dollars in need stimulus spending on infrastructure.
Trump also kicked a crying baby out of one of his rallies.
Late-night comics make fun of Republicans more often than Democrats (surprise).
Millennials are losing interest in sex (sort of). Safe spaces, naturally, are to blame.