Anti-Drug War Philly DNC Protesters March Giant Joint
Grassroots issues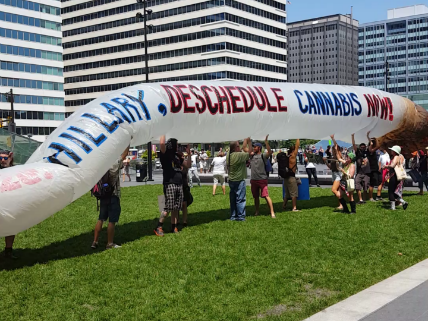 A small group of protesters with the No More Drug War Coalition separately marched two giant inflatable joints in Philadelphia in a hundred degree heat on the first day of the Democratic convention, calling on presumptive Democratic nominee to deschedule marijuana.
The inflatable jawn that was marched near CIty Hall  was 51-feet long, in support of statehood for D.C., where it wass created by Cesar, an artist, and was inflated by a $120 leafblower from Home Depot. The other giant joint was held up by fans that required batteries and carts to hold the batteries.
JoMo, who orchestrated the march, said he wanted something more mobile when he and other activists from New York City, where he lives, refurbished the giant joint to put back in use, and decided to power it with a leafblower. He say the demonstrators who helped carry the giant joint came entirely from volunteers in the general vicinity.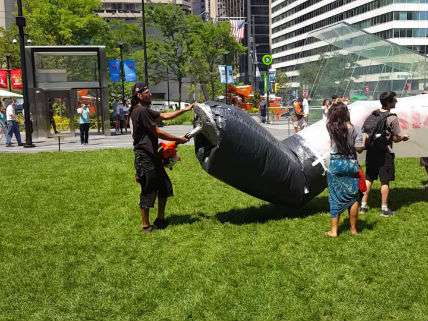 JoMo said Philly's approach to marijuana, which has more or less been decriminalized in small amounts, was "a century ahead of Manhattan, and that's sad because we have real reasons to be paranoid, and it is so stupid."
He says the giant joint will eventually return to D.C., when they get around to it.
Although in November Bernie Sanders became the first major party presidential candidate to endorse legalizing marijuana at the federal level, it did not become much of an issue in the Democratic primary. Libertarian presidential nominee Gary Johnson and presumptive Green presidential nominee Jill Stein both support legalizing marijuana.