North Carolina Exempts Police Body Cam Footage From Public Records Requirements
Anti-transparency measure undermines the purpose of cop cameras, according to advocates.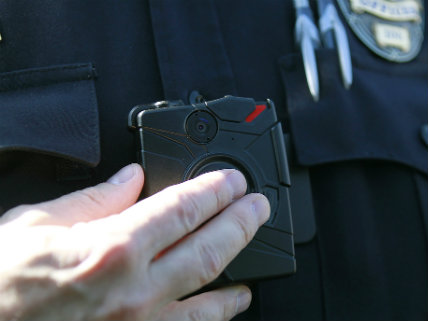 Police body camera videos and dash cam recordings in North Carolina are now exempt from state public records laws under a bill signed into law Monday.
North Carolina joins five other states—Florida, Georgia, Illinois, Oregon, and South Carolina—that exempt police body cam videos under freedom of information laws, according to the National Conference of State Legislatures.
Under the new law, people who appear in police body cam and dash cam videos can request the footage from police departments. If denied, they must ask permission from judge, who must find a "compelling public interest" in releasing the footage. Prosecutors would still have access to the footage.
Transparency advocates and press organizations said the new law will make holding the police accountable in the state harder and runs contrary to the purpose of police body cams in the first place.
"The whole reason we have these body cam programs is because there was a lack of reliable information about what happens between law enforcement and the public," Adam Marshall, an attorney at the Reporters Committee for Freedom of the Press who tracks body cam policies across the country, said today in an interview. "If you cut off access to the public, you're undercutting the entire rationale for this new technology. If there's no public access to these videos, they just become another surveillance and investigative tool for police, instead of providing the oversight everyone believed they were being instituted to provide."
Currently, 29 states have explicit policies addressing police body cam footage and public records. For example, body cam footage by the Metropolitan Police Department of Washington, D.C. is released under public records requests, and the police department has proactively released footage of some police shootings.
However, as I wrote last year, the rapid rollout of body cam pilot programs—spurred by public outcry following the deaths of Michael Brown and Eric Garner at the hands of police—has outpaced the development of standard policies and best practices, and states have struggled to balance transparency with privacy rights. Some states exempt footage in a location where the person being filmed would have a reasonable expectation of privacy.
North Carolina Gov. Pat McCrory says the new North Carolina law is an attempt at striking that balance between transparency and prudence. "The legislation allows people to see it, but in a reasonable amount of time," McCrory told WFMY News on Wednesday. "So, the public sees the whole story. And, some of the media might be disappointed that they can't show it on the 11:00 news the day it happens, but I've got to have respect for our police officers. That's my number one concern."
But Marshall said North Carolina's law falls on the more restrictive end of the patchwork of body cam laws that have proliferated since the technology became widespread, and that it will overburden the already clogged court system with requests.
Local activists also said the law will leave too much discretion in the hands of police departments.
"It comes down to a personal or moral level of whoever the police chief is," Wanda Hunter of the Raleigh Police Accountability Community Task Force, told the AP. "If it's someone you constantly come head to head with, you can just hang it up there."
The ACLU of North Carolina called the law "shameful" and said it would make efforts to increase police accountability "nearly impossible."
"People who are filmed by police body cameras should not have to spend time and money to go to court in order to see that footage," Susanna Birdsong, Policy Counsel for the ACLU of North Carolina, said in a statement. "These barriers are significant and we expect them to drastically reduce any potential this technology had to make law enforcement more accountable to community members."