Baton Rouge Protesters Flee to Private Property, Militarized Police Chase Them Off and Arrest Many
Black Lives Matter's DeRay Mckesson and Breitbart News' Lee Stranahan among over 100 journalists and protesters arrested over the weekend.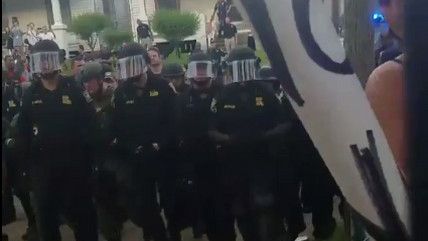 (Twitter/@lizzkatherine_)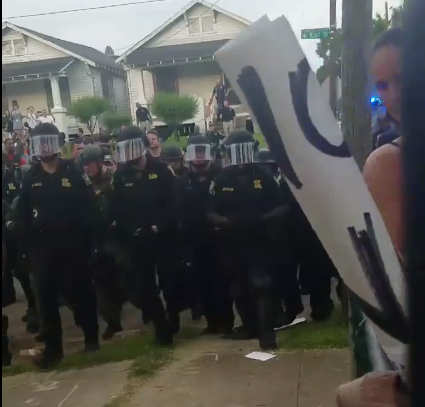 A weekend of protests against the Baton Rouge police shooting of Alton Sterling has led to over 100 protesters and journalists being arrested in various locations around the city, as well as a series of viral images that seem to show an overmilitarized reaction by police to the protests. 
One of the most striking pieces of viral media to come out of the unrest is the camera-phone footage shot by Elizabeth Thomas, a New Orleans native who graduated from Louisiana State University in 2015. The video shows what looks like at least 100 riot-gear clad officers with rifles forming a perimeter around the protesters, who have retreated from the street and onto the front lawn of a private home. About fifteen seconds into the video, the officers begin marching in formation toward the protesters. 
Then, all hell starts to break loose as a few officers attempt to arrest a few protesters, after which a number of protesters begin to chant, "This is private property!"
About a minute later, a number of protesters on the sidewalk (separated by a fence from the front yard) are taken down and arrested by officers, while one officer looks directly at Thomas (still holding the camera-phone) and instructs her to "go back, go back."
Watch Thomas' footage below:
In a phone interview earlier today, Thomas told Reason that she traveled to Baton Rouge to be a part of "youth-led protests" meant to take a stand against "the atrocities happening in our own back yard." She says the protesters held a peaceful rally outside the state Capitol, then a portion of them attempted to march along the Interstate highway (a common Black Lives Matter tactic) but were blocked by the police and diverted to a city road.
Then, Thomas says, a police MRAP showed up on the scene as officers threatened to deploy tear gas on the protesters if they did not disperse. The crowd refused, so Thomas says police advanced on them "dragging anybody they see in their way to the ground, kicking them, punching them, and arresting them." From there, the crowd retreated to the front lawn of a house where they had been invited by the homeowner to take refuge. After about 30-40 minutes, Thomas says more and more police arrived, which culminated in what Thomas described as an "ambush" by police, which can be seen in her video.
"We weren't swearing at the police, we weren't being aggressive, we were assembled peacefully. And the police came on this woman's private property after she gave us permission," Thomas asserts. She adds that the arrests appeared to have been done at random, and claims the police had been laughing at them both during and after the standoff. 
Once the arrests started, protesters spilled into the street. Some were able to run away, while others were arrested, reportedly for "obstructing a highway," according to the Daily Beast, which also noted:
The Daily Beast and several other media outlets were forced into a 10-foot wide zone by police. Then they ordered all reporters without credentials out of the zone and threatened to arrest any who put a foot in the street. Arianna Triggs, a production assistant for NBC 33, told The Daily Beast she was also threatened with arrest and forced to move.

On Saturday, at least three journalists were arrested, including a radio reporter with WWNO and a credentialed news director with WAFB.
The woman who allowed the protesters on her property (identified only as "Ms. Batiste") told CBS News' David Begnaud, "I'm very upset. I'm stunned at the behavior of the police officers," who she says "bombard[ed]" her house and tried to close the front door on her while she pleaded with them that she had given the protesters permission to be on her property.
The Baton Rouge PD would not comment to Reason when reached by phone, but Lt. Jonny Dunham of the Baton Rouge PD told Begnaud that by trying to get on the Interstate, "the protesters had already broken the law." Dunham added, "They felt like they could jump in her yard and be safe, but once you've broken the law, there's no safe space." 
Thus far, a number of politically diverse sources claim the Baton Rouge PD was antagonistic with both protesters and reporters, a position asserted by both Breitbart News reporter Lee Stranahan and Black Lives Matter organizer DeRay Mckesson, who apparently briefly shared a cell together in East Baton Rouge Parish Prison, along with upwards of 50 other men.
.@stranahan, it was good to talk in the Parrish jail cell, & it is important that you tell this truth on Breitbart. https://t.co/RG8BDbtG7J

— deray mckesson (@deray) July 11, 2016
Following his arrest, Stranahan took to Twitter to write, "I can't stress this enough: not only do I believe my imprisonment was unconstitutional but I believe the other protesters was as well." On Sirius XM's Breitbart News Daily this morning, Stranahan described himself as a "strident supporter of law enforcement or critic of Black Lives Matter" and blamed the "unconstitutional" arrests on a systemic failure by the Democrat-run "power structure" of Baton Rouge and Louisiana for giving ineffectual or conflicting orders to the police.
Stranahan also said that said that during his 21 hours in detention, he spent a portion of it in the prison's general population. As noted by Politico:
And when I say prison, I mean prison. I was in a, I was detained for a couple of hours in a line of cells with people in general population," Stranahan said. "I talked to a guy who killed his wife, second-degree murder, killed his wife by stabbing her in the neck. And that's who I was in with. These were not the protesters — I was with the protesters most of the time, but then I was put in general population."
Mckesson and Stranahan might agree that their arrests were unconstitutional but unsurprisingly, they differ on who they hold responsible, with the former telling the New York Times, "The police want protesters to be too afraid to protest, which is why they intentionally created a context of conflict." Also from the Times:
Mr. Mckesson filmed his encounter with the police using the live-streaming app Periscope. On camera, he told viewers that there was no sidewalk where they were walking. An officer could be heard shouting, "You with them loud shoes, I see you in the road. If I get close to you, you're going to jail."
Protests are expected to continue today, with reports indicating that demonstators seek to block the Mississippi River Bridge. West Baton Rouge Parish Sheriff Mike Cazes told WBRZ-TV that 300 officers would be stationed near the bridge, "ready to move" if necessary.