Gary Johnson Says Alton Sterling's Shooting Could Be "Murder"
But the Libertarian presidential candidate fails to recall "egregious police shootings" while he was governor of New Mexico.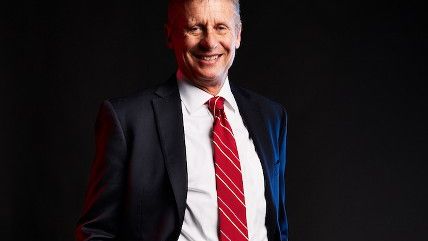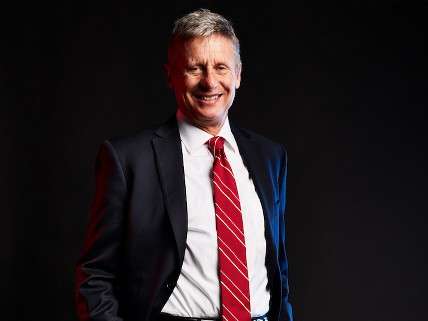 Libertarian presidential candidate Gary Johnson says the shooting of Alton Sterling by Baton Rouge (La.) police officers Blane Salamoni and Howie Lake could be "murder." 
Johnson told Buzzfeed News yesterday that the widely circulated cell phone videos showing the shooting of Sterling — who was pinned to the ground and on his back during an altercation with police outside a supermarket — were "very disturbing." From the interview:
"I heard, 'He's got a gun.' Well, what does that mean?," Johnson told BuzzFeed News. "If there was no display of a gun, if he didn't have it in his hand…if his hand wasn't being suppressed, I don't get it. I mean, that's murder."
The former governor of New Mexico gave non-committal answers when asked what, if any, potential policies could be introduced to make police shootings more rare. Johnson says he opposes "one-size-fits-all" use-of-force policies that would run the spectrum from the local to the federal level, but that he would support "highlighting a police force in a given city that has the least amount of shootings" as a "model" for reform. 
When asked if during his time as the Republican governor of New Mexico there were any cases where video appeared to show a police officer using unnecessary deadly force, Johnson replied, "We weren't into the egregious police shootings from '95 to 2002. It really wasn't happening. It certainly wasn't happening in New Mexico, as opposed to today."
This is untrue, particularly in Albuquerque, New Mexico's largest city.
A federal investigation concluded in 2014 that the city's police "officers routinely violated the Constitutional rights of residents, unjustly beating them, shocking them with tasers, and even shooting them dead," according to the The Atlantic's Conor Friedersdorf. Moreover, The Economist wrote, "No [Albuquerque] police officer has been prosecuted for unlawful killing, yet the city has had to pay out $24m in legal settlements to victims' relatives. The Police Oversight Commission is weak, underfunded and quarrelsome."
But this investigation took place more than a decade after Johnson left office. So were there no "egregious police shootings from '95 to 2002" by the APD? 
Former Reasoner and current Washington Post writer Radley Balko writes that yes, the APD's use-of-force issues were well-known while Johnson was the state's chief executive. The following excerpt is from Balko's book The Rise of the Warrior Cop:
In 1998 the city of Albuquerque, New Mexico brought in Jerry Galvin to take over the police department after a series of questionable shootings and SWAT incidents moved the city to commission an outside investigation. In one incident that made national news, one SWAT officer said to his colleagues, "Let's go get the bad guy," just before the team went to confront 33-year-old Larry Walker. The "bad guy" wasn't a terrorist, killer, or even a drug dealer, but depressed man whose family had called the police because they feared he might be contemplating suicide. The SWAT team showed up in full battle attire, including assault rifles and flash grenades. They found Walker "cowering under a juniper tree," the New York Times later reported, then shot him dead from 43 feet away.

The city brought in Sam Walker, a well-regarded criminologist at the University of Nebraska, to evaluate the police department's use of lethal force. Walker was astonished by what he found. "The rate of police killings was just off the charts," Walker told the Times. The city's SWAT team, he said, "had an organizational structure that led them to escalate situations upward rather than de-escalating." The city then brought in Galvin, who immediately disbanded the SWAT team, toned down the militarism, and implemented community policing policies. Galvin told the Times, "If cops have a mindset that the goal is to take out a citizen, it will happen."
David Correia wrote in the Albuquerque-based alt-weekly magazine Alibi in 2014, the "APD killed 31 people in the 10-year period ending in 1997, a number that placed Albuquerque in a category all its own. No other police department in the United States of comparable size (or smaller) killed as many people as the Albuquerque Police Department did."
This period includes the first three years of Johnson's tenure as governor, and it beggars belief that he would not be aware of it.
It's encouraging that Johnson is taking an interest in criminal justice reform and police use-of-force, but a little self-reflection on his apparent ignorance of what was happening with the police in his state's largest city might help him form some more substantive ideas for reform.