What the Supreme Court Ruling Means for U.S. Abortion Access
The Supreme Court's ruling in Whole Woman's Health v. Hellerstedt could affect laws around the U.S.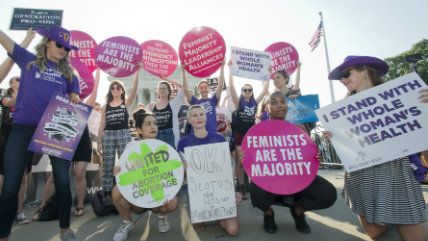 (Patsy Lynch/Polaris/Newscom)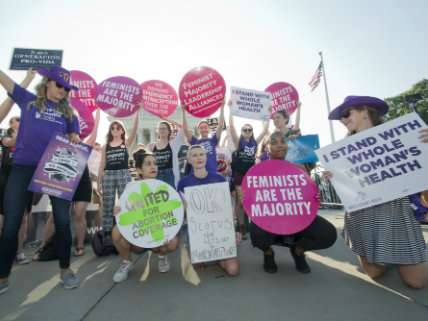 In its first significant abortion ruling since 1992, the U.S. Supreme Court Monday held that Texas abortion regulations were unconstitutional. As Damon Root noted here earlier, the 2013 Texas statute, known as H.B. 2, was "one of the strictest anti-abortion laws in the United States." With four liberal-leaning justices and three strict conservatives on the Court, Justice Anthony Kennedy was the swing voter in this case, and his siding against the state of Texas tipped the scales to Whole Women's Health clinic favor by a vote of 5-3. The decision means Texas can't require all abortion doctors to obtain admitting privileges at a nearby hospital nor force abortion clinics to meet surgical-center standards regardless of whether they perform surgical abortions. With similar regulations recently passed—and challenged in court—across the country, the Court's ruling could effect abortion access in all regions of the U.S.
The Court found that the Texas restrictions (more background on them here) put an "undue burden" on women seeking abortions without serving a legitimate interest of the state—i.e., keeping patients safe or holding doctors and clinics accountable). "Neither of these provisions offers medical benefits sufficient to justify the burdens upon access that each imposes," wrote Justice Stephen Breyer for the majority. "Each places a substantial obstacle in the path of women seeking a previability abortion, each constitutes an undue burden on abortion access, and each violates the Federal Constitution."
Backhanded regulation of abortion clinics sold under the guise of women's safety has been one of the most popular, and successful, tactics of the pro-life movement in recent years. More than 20 U.S. states require abortion clinics to meet ambulatory surgical-center standards, according to the Guttmacher Institute, and more than 14 states say abortion doctors must have some affiliation with a local hospital. These "TRAP laws" (targeted regulation of abortion providers) have forced shut abortion clinics in Texas, Virginia, Mississippi, and elsewhere.
Against this backdrop, the Supreme Court's decision matters far beyond Texas—and not just geographically. It gets to a fundamental debate about legal abortion in America, one last opined upon federal in 1992's Planned Parenthood v. Casey: is abortion a limited right subject to strong state subjectivity or a fundamental constitutional right with which legislatures may not interfere?
"Today, the Supreme Court reaffirmed that the Constitution protects not just the theoretical right to abortion, but the right of a woman to actually get one without unwarranted interference from politicians," said Jennifer Dalven, director of the Reproductive Freedom Project at the American Civil Liberties Union (ACLU), on Monday. "The decision should send a loud signal to politicians that they can no longer hide behind sham rationales to shut down clinics and prevent a woman who has decided to end a pregnancy from getting the care she needs." Its "effects are likely to be felt around the country," stated the ACLU.
The Supreme Court's decision doesn't automatically invalidate state laws similar to Texas' H.B. 2, but should they be challenged in court (and many already have been), state judges now have the SCOTUS decision to serve as a precedent, making their revocation likely. Still, as Vox writer Sarah Kliff noted, "one thing that stands out about the Texas case is that it was very facts-based: Justices wrote extensively about the effect the law was having on clinic closures, the distance that women had to drive, and their overall access to abortion. So there is a possible world in which abortion opponents try to mount a defense with different facts — if they can make the argument that in their state, abortion access hasn't changed significantly in the wake of new laws."
But should such TRAP laws prove no longer useful, anti-abortion advocates always have more tricks up their sleeves. The latest is to rebrand dilation and curettage (D&C) procedures, a surgical method common for both elective abortions and women who miscarry—as "dismemberment abortion" and have the procedure banned. Meanwhile, other states, such as Oklahoma, have taken to outright criminalizing physicians who perform abortions or criminalizing anyone who tries to talk someone else into terminating a pregnancy. I suspect will see more of these and new tactics to come.