The Volokh Conspiracy
Mostly law professors | Sometimes contrarian | Often libertarian | Always independent
Unanimous Supreme Court throws out former Governor Bob McDonnell's conviction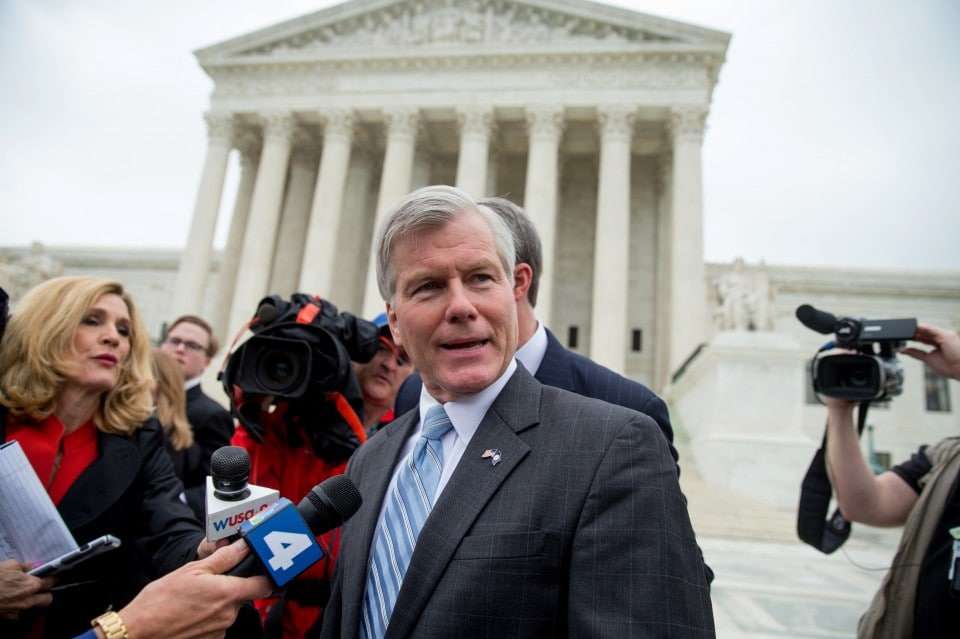 In the final opinion of the term, the Supreme Court threw out the corruption conviction of former Virginia governor Robert McDonnell. According to the Court, in an opinion by Chief Justice Roberts, the trial court had adopted an overly expansive interpretation of the relevant statutory provisions, and the definition of what constitutes an "official act," in particular. Given the Chief Justice's clear preference for broad agreement on the Court, it's perhaps fitting that he authored the final opinion for the term for a unanimous court.
U.C. Irvine's Rick Hasen offers some early analysis of the opinion on the Election Law Blog. He writes:
The Supreme Court's unanimous ruling throwing out the conviction of Gov. McDonnell (while leaving open the possibility of a retrial on a narrower theory of the case) is sensible and courageous, and shows the continuing important influence of Justice Scalia in this area of the law. It is hard to write an opinion letting off the hook someone whose actions were as odious as Gov. McDonnell, in taking rolexes, funding for his daughter's wedding and more from someone who wanted the governor's assistance in marketing the equivalent of snake oil. But it was the right thing to do.
As Hasen notes, the opinion was clearly influenced by the late Justice Scalia, in both tone and substance. For starters, the opinion relies upon a close textual analysis of the relevant provisions. Further, it relies upon the late Justice Scalia's opinion in U.S. v. Sun-Diamond Growers, which sought to distinguish between unlawful corruption and ordinary politics.
Former governor McDonnell's trials are not over, as it remains possible that he could be convicted on remand. In the meantime, prosecutors will have to take more care in making the case for corruption convictions.