Three Oakland Police Chiefs Resign Within Nine Days
The long-corrupt department is reeling from scandals involving teen prostitution and racist text messages.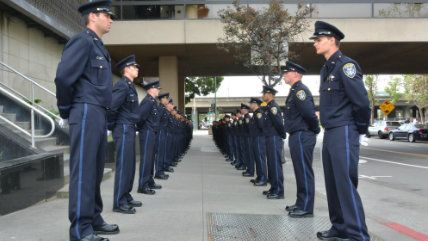 (Oakland Police Department/Facebook)
The California city of Oakland has seen three police chiefs resign in just over one week, as the Oakland Police Department (OPD) reels from scandals involving teen prostitution and racist text messaging.  
The first to go, OPD Chief John Whent, was a two-decade veteran of the department. He resigned June 9 amid an ongoing investigation into at least five OPD officers, who were all accused of paying an 18-year-old woman for sex. The sexual activity allegedly began when she was still underage, and came to light following the suicide of OPD officer Brendan O'Brien, the man who helped her get acquainted with other officers. 
While Chief Whent cited "personal" reasons for his resignation, it coincided with him and the department coming under fire for, at least, being clueless about the situation and potentially helping cover it up. 
After Whent's resignation, Oakland Mayor Libby Schaaf appointed Ben Fairow as interim OPD Chief. But Fairow was subsequently removed from the position after just six days, without a reason given publicly. Paul Figueroa took over in Fairow's wake… then resigned on Friday himself. 
Figueroa's resignation came as the OPD was rocked by yet another scandal: a cache of racist text messages and emails shared between OPD officers. An internal investigation into the messages is now underway. 
Announcing Figueroa's resignation and the new investigation, Schaaf stated Friday: "I am here to run a police department, not a frat house." She would not give details about the texting investigation except to say that it did not involve Figueroa, that the offending texts were sent by black officers, and that they were "wholly inappropriate and not acceptable for anyone who wears the badge of the Oakland Police Department." She also called the overall environment in the OPD "toxic" and "macho." 
Mayor Schaaf chose not to appoint yet another acting police chief, instead placing the department under civilian oversight. Staff will henceforth report directly to the City Administrator until a new police chief is hired. "The tactical and operational decisions will remain with the OPD commanders as they always have," said Schaaf's office in a statement. "Administrative and personnel decisions will come directly to the City Administrator."
While recent "reports of misconduct are disturbing," Schaaf said Friday, "what is positive is that the measures and structures we have put in place to root out this type of behavior, are working. The new Deputy Chief position to review all cases involving serious allegations of misconduct, as well as my recent Executive Order requiring that criminal misconduct be reported immediately to the District Attorney's Office, are making an impact." 
"I am cleaning house, bringing in outside agencies to ensure the integrity of our investigations and will be merciless in punishing those who are found guilty," she added. 
Long plagued by corruption, the OPD has been under federal oversight since 2003.