Presidential Politics Pays Off for Cable News, But Networks and Newspapers Continue to Flounder
As print papers continue their decline, cable programs and mobile content are picking up the slack.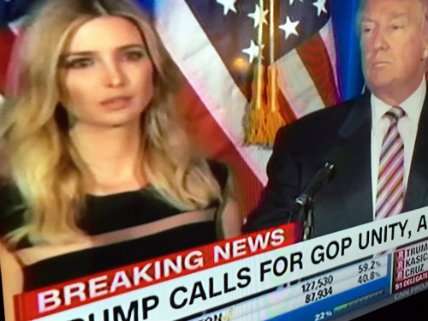 Network TV continued to take a beating in 2015, but audiences were up for cable news programs, online content, and podcasts, according to a new report on media trends from the Pew Research Center. Some of last year's biggest media winners included CNN, which saw a 38 percent increase in prime-time viewers last year, and The Nation magazine, which saw a 68 percent increase in newstand sales. And some of last year's biggest losers? The Today Show, National Review and Wired magazines, news magazine programs such as 60 Minutes and Dateline, and the newspaper industry as a whole. 
Last year was "the worst year for newspapers" since 2009-2010, according to Pew, with daily circulation falling an average of 7 percent, employment down 10 percent, and advertising revenue down 8 percent. And while digital advertising is up overall, newspaper websites haven't been big beneficiaries. Rather, almost two-thirds of digital advertising spending last year went to just five companies: Google, Facebook, Yahoo, Microsoft, and Twitter. For publicly traded newspaper companies, digital ad revenue fell 2 percent in 2015. 
Network news stations (ABC, CBS, Fox, and NBC) also fared badly last year. While viewership for ABC, CBS and NBC evening newscasts was up one percent, overall "viewership data collected by Nielsen Media Research shows that in 2015 network affiliate news stations (ABC, CBS, Fox, NBC) lost viewership in every key timeslot–morning, early evening and late night," Pew reports. Morning and evening audiences were down 2 percent, with late-night and mid-day audiences each down 5 percent.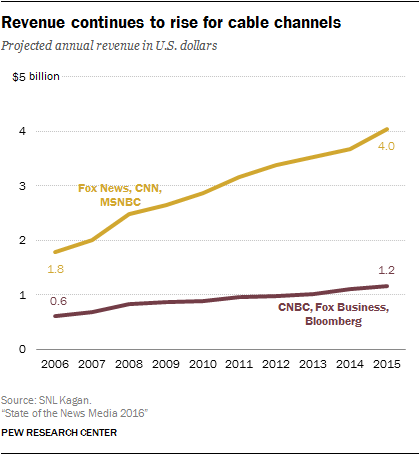 But cable news is kicking ass, with viewership up eight percent in 2015 over 2014. "Cable-hosted presidential candidate debates helped drive some of the surge in viewership," notes Pew. Yet daytime cable-news programs also saw bigger audiences.
Of the major cable news networks, CNN saw the biggest audience gains, with viewership up 17 percent during the 6 a.m. to 6 p.m. hours and 38 percent for prime-time programming. Fox News audiences increased by 7 percent during the day and 3 percent during primetime. 
Smaller cable-news networks had a good 2015, too. Fox Business Network revenues were projected to grow by 15 percent in 2015, with CNBC revenues expected to grow 4 percent and Bloomberg TV revenues by 3 percent. 
Another media bright spot comes from podcasts and streaming radio. Around one-fifth of U.S. residents ages 12 or older said they had listened to at least one podcast in the past month, up from 12 percent in 2010, and 36 percent had ever heard a podcast, up from 23 percent six years ago. Meanwhile, the number of people who had listened to streaming radio in the past month jumped from 27 percent in 2010 to 57 percent last year. And "this growth hasn't necessarily cannibalized the audience for traditional radio," notes Pew. NPR's major news programs attract around 12 million listeners, and 91 percent of Pew survey respondents aged 12 and up said they had listened to traditional radio in the past month.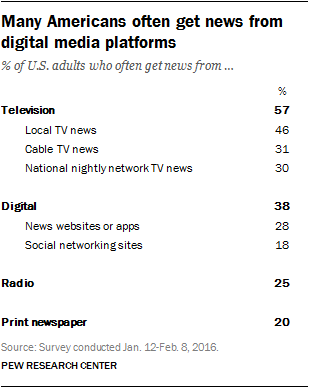 Digital content is doing okay, too, despite the lackluster status of ad revenues. It's a major source for U.S. political news, with 65 percent of respondents in the Pew study saying they had learned about the 2016 presidential election from a digital source in the preceding week (48 percent from news sites or apps, 44 percent from social media). This is up substantially from 2012, when a mere 17 percent of U.S. adults said that they regularly turned to social media for election news and just 36 percent turned to any digital news source for campaign coverage. From Pew: 
Indeed, for each of the four sectors studied in this analysis–newspapers, news magazines, national television news outlets and digital-native publishers–a majority of outlets (77 out of 110) grew their average monthly total digital audience in the fourth quarter of 2015, compared to the same period in 2014. For the 50 newspapers studied, 33 grew their average monthly unique visitors, and for the 12 news magazines, nine did. Looking at the eight national television news outlets, including the major networks, cable channels and Hispanic broadcasters, six increased their traffic. Finally, 29 out of the 40 digital-native news sites studied here experienced growth.
It's a mixed bag for print news magazines. Of the 14 magazines Pew studied, print sales figures ranged from a rise of 65 percent (for The Nation) to a loss of 37 percent (for National Review). Other losers included The Week (down 35 percent) and Wired (down 25 percent). Sales of New York magazine, meanwhile, were up 44 percent. The Atlantic experienced the biggest overall circulation increase: 2 percent.
On average, single copy (i.e. newsstand) sales for news magazines were down 3 percent in 2015 and subscriptions were down two percent. "All but four of the 14 news magazines studied experienced overall circulation decline," Pew notes. And while web traffic for these magazines was up in 2015, the average time spent on the sites was down.
A few more interesting tidbits from the Pew report: 
The Brits are coming for our web traffic: American web traffic to dailymail.co.uk and theguardian.com would put these U.K. papers in the top five U.S.-based papers by web traffic.
Mobile trumps desktop: Desktop digital traffic fell for 39 of the 50 newspaper websites studied, but mobile traffic rose for 43 of the 50 papers.
Business booming for cable news stations: CNN, Fox News, and MSNBC were all projected to grow their profits in 2015, with Fox News profits up by about a fifth (to $1.5 billion), CNN up 17 percent (to $381 million), and MSNBC up 10 percent (to $227 million).
Mixed news for morning news programs: The Today Show viewership has declined 17 percent since 2008, but audiences for ABC's Good Morning America and CBS's This Morning are up 15 and 17 percent, respectively.
Face the Nation reigns on Sundays: Audiences are up for the Sunday political shows on non-cable stations, including CBS' Face the Nation, ABC's This Week, and NBC's Meet the Press. Of these, Face the Nation is the highest rated, followed by Meet the Press, which had a 13 percent viewership increase in 2015. Fox News Sunday viewership was up 10 last year over the previous year.
"News magazine programs" falling out of favor: Combined viewership for six network news-magazine programs (60 Minutes, 48 Hours, 20/20, Nightline, Dateline Friday, and Dateline Sunday) were down 5 percent last year over 2014 and 16 percent since 2008. 
Alt-weeklies also floundering: Circulation is down 11 percent from 2014 to 2015 at the top 20 newsweeklies across America. "While much of this year's change was driven by substantial drops at large publications like The Village Voice and LA Weekly, circulation did decline across the board," notes Pew. Just two alt-weeklies saw an increase in circulation of more than 1 percent, and neither increase was more than 4 percent.