A.M. Links: Clinton vs. Trump vs. Johnson, Senate Democrats End Pro-Gun Control Filibuster, Orlando Shooter Briefly Worked as Prison Guard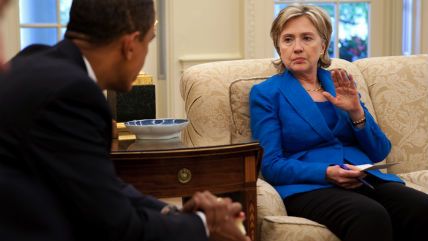 White House / Flickr

According to a new poll, Hillary Clinton has the lead with 39 percent of the vote, followed by Donald Trump at 32 percent and Gary Johnson at 11 percent.

Senate Democrats ended their 15-hour pro-gun control filibuster early this morning.
Gun sales are reportedly surging among gays in the wake of the Orlando shooting.
Orlando killer Omar Mateen worked briefly as a prison guard before he was fired from that job.
Searchers have recovered the body of the two-year-old boy who was attacked by an alligator at a Disney resort in Florida.
"French police used tear gas to disperse rampaging English soccer fans after clashes on Wednesday. It was the fourth time England supporters have been involved in violent incidents since the start of the European Championship tournament."
Follow us on Facebook and Twitter, and don't forget to sign up for Reason's daily updates for more content.