Ken Burns Slams Donald Trump in Stanford Address
"Asking this man to assume the highest office in the land would be like asking a newly minted car driver to fly a 747."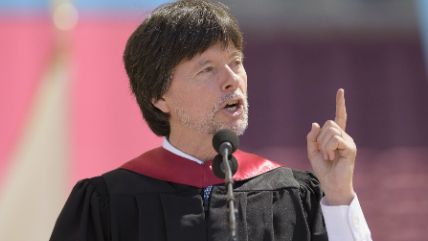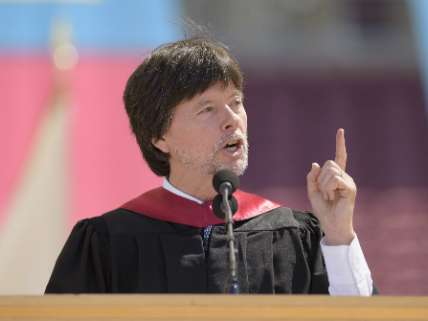 Filmmaker Ken Burns spoke out against presumptive Republican presidential nominee Donald Trump in a commencement address at Stanford University on Sunday.
Burns, known for such documentary series as The Civil War and Baseball, began his address by describing his love of history, connecting the struggles he dealt with as a child to the hardships of Abraham Lincoln prior to becoming president. He noted how Lincoln was able to move past his political shortcomings to preside over the country during the Civil War, adding how history can serve as a conscience for moving society forward.
But then Burns focused on a new topic: Donald Trump. Burns said:
For 216 years, our elections, though bitterly contested, have featured the philosophies and character of candidates who were clearly qualified. That is not the case this year. One is glaringly not qualified.

So before you do anything with your well-earned degree, you must do everything you can to defeat the retrograde forces that have invaded our democratic process, divided our house, to fight against, no matter your political persuasion, the dictatorial tendencies of the candidate with zero experience in the much maligned but subtle art of governance; who is against lots of things, but doesn't seem to be for anything, offering only bombastic and contradictory promises, and terrifying Orwellian statements; a person who easily lies, creating an environment where the truth doesn't seem to matter; who has never demonstrated any interest in anyone or anything 6 but himself and his own enrichment; who insults veterans, threatens a free press, mocks the handicapped, denigrates women, immigrants and all Muslims; a man who took more than a day to remember to disavow a supporter who advocates white supremacy and the Ku Klux Klan; an infantile, bullying man who, depending on his mood, is willing to discard old and established alliances, treaties and long-standing relationships.

I feel genuine sorrow for the understandably scared and—they feel—powerless people who have flocked to his campaign in the mistaken belief that—as often happens on TV—a wand can be waved and every complicated problem can be solved with the simplest of solutions. They can't. It is a political Ponzi scheme. And asking this man to assume the highest office in the land would be like asking a newly minted car driver to fly a 747.
Though Burns did not mention Trump by name, it is easy to see who he was criticizing.
Burns blamed Trump's rise on journalists who "failed to expose this charlatan." Instead of covering Trump properly, Burns said media outlets gave Trump abundant amounts of airtime while trying to balance good journalism and desires of netting big ratings.
"Edward R. Murrow would have exposed this naked emperor months ago," said Burns, referencing the CBS broadcaster who took on Senator Joseph McCarthy's haphazard crusade against communism in the 1950s.
Burns also touched on the recent controversial conviction of Stanford swimmer Brock Turner. Turner was given a six month sentence last week for raping an incapacitated woman after a 2015 fraternity party. Protesters demonstrated during the commencement, holding signs declaring such statements as "Stanford protects rapists."
"I am the father of four daughters," Burns said. "If someone tells you they've been sexually assaulted, take it effing seriously and listen to them. Maybe, some day, we will make the survivor's eloquent statement as important as Dr. (Martin Luther) King's Letter from a Birmingham Jail." 
For more on Ken Burns, watch Reason TV's 2011 interview with him below.