Libertarian Party Gains Second Sitting State Legislator
Laura Ebke of Nebraska's technically nonpartisan unicameral legislature switches her affiation from Republican to Libertarian.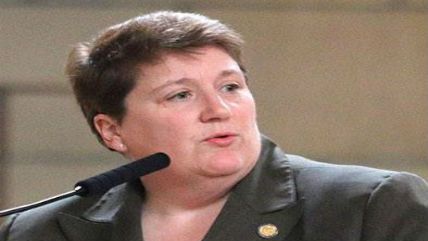 The Libertarian Party, in the wake of unprecedented press following the nomination of Gary Johnson and William Weld (both former Republican governors) as their candidates for president and vice president, just won their second seated state legislator.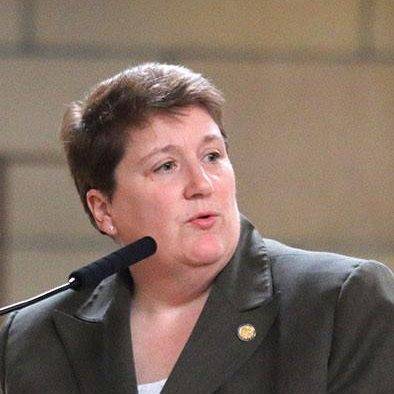 Like the first one, Nevada's Assemblyman John Moore, Sen. Laura Ebke of Nebraska's 32nd district, enters as an already seated legislator who switched party allegiance from the Republicans.
The Lincoln Journal-Star reports:
Ebke, who always had identified herself as a Republican whose political philosophy was Libertarian, changed her registration online last week.

"I'm not willing to bend my principles to go along or cast a vote just for the sake of party unity," she said during a telephone interview.

Ebke was sitting in the back of the room at the Republican state convention in Omaha last month when Ricketts criticized more than a dozen state senators who are Republicans for votes they cast, arguing for the need to elect "platform Republicans" to the nonpartisan Legislature…

Ebke has cast votes to override several of the governor's vetoes, including his rejection of bills to repeal the death penalty, authorize Nebraska driver's licenses for young undocumented immigrants who have lawful presence in the United States and grant the right for those young people to acquire professional and occupational licenses to work in the state.

"I agree with the Republican Party on many things and I have many friends in the party," she said.

"Republicans talk about fiscal responsibility, but they tend to place not such a high emphasis on civil liberties."

Ebke said the approaching nomination of Donald Trump as the Republican Party's presidential choice affected her decision "maybe a little (because) I can't imagine myself voting for him."….Ebke was elected to the Legislature in 2014 and is midway through her first term.
From a Libertarian Party press release on Ebke's switch, which notes that Nebraska's unicameral legislature is officially nonpartisan, though sitting members affiliations are generally known:
During her 1-1/2 years in office, Sen. Ebke has introduced a bill to prohibit local governments from having more stringent requirements for gun possession than the state has; co-sponsored a bill to legalize medical marijuana; and co-sponsored a bill to partially repeal asset forfeiture ("policing for profit").

Sen. Ebke played key a role in advancing each of these bills.

In a letter to her donors to announce her switch, Sen. Ebke said she had become increasingly disillusioned by the GOP.

"My view of conservatism has always been [based on] smaller government, lower taxes, fiscal responsibility, personal responsibility, respect for constitutional rights," she wrote. "And on the national scene, a strong military, but not an overly aggressive one. In other words, I believe in a constitutionalism which looks to the principles of our founders as a guide."