"Pay-to-Play" Cop Who Mistook His Gun for a Taser Sentenced to Four Years For Fatal Shooting
Judge upholds jury's sentence recommendation for Robert Bates, who killed Eric Harris in gun purchase sting operation.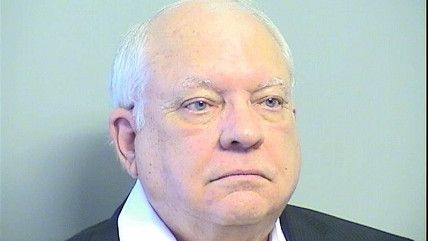 (Tulsa County Sheriff's Department)
Robert Bates, the 74-year-old insurance executive who reportedly donated thousands of dollars to win himself the privilege of being a "volunteer" sheriff's deputy in Tulsa, Oklahoma, was sentenced to four years in prison yesterday for the fatal shooting of 44-year-old black man Eric Harris in 2015.
Harris was the target of a sting operation where officers hoped to catch him in the act of making an illegal gun sale. When Harris took off running, officers gave chase. Once they caught up with Harris, he was brought to the ground and Bates reached for what he thought was his taser, but was instead his department-issued firearm and shot Harris.
Bates immediately said, "I'm sorry," while Harris screamed in agony that he was losing his breath. Another officer told Harris "fuck your breath," and blamed the dying man for his predicament because he ran from them. All of this was caught on the body camera worn by one of the officers.
Despite pleas for leniency, the judge upheld the all-white jury's recommendation that Bates be sentenced to the maximum four years allowed for a second-degree manslaughter conviction. Tulsa's News 9 showed video of one woman angrily leaving the courthouse saying, "Yeah, the criminal won. Good ole Eric Harris."
Bates' attorneys called the killing "excusable homicide" and blamed Harris' death on his questionable health and the fact that methamphetamine was found in his system, rather than the bullet Bates put into Harris' body.
Reason's Ed Krayewski wrote in April at the time of Bates' conviction that "Prosecutors also argued Bates showed a lack of 'reasonable' care by volunteering for the sting the night before. Other deputies testified they saw Bates sleeping in his car before the operation against Harris, who the deputies testified they told Bates was dangerous and likely armed."
NBC News reports that Harris' death led to a full accounting of the many bureaucratic missteps which allowed an elderly private citizen to be in an official police situation with the authority to use deadly force:
Following the shooting, an outside consultant hired to review the sheriff's office determined that the agency suffered from a "system-wide failure of leadership and supervision" and had been in a "perceptible decline" for more than a decade. The reserve deputy program was later suspended.

Weeks after Harris was killed, an internal sheriff's office memo from 2009 was released by an attorney for Harris' family that alleged superiors knew Bates didn't have enough training but pressured others to look the other way because of his relationship with the sheriff and the agency.
You can watch the body camera footage of Eric Harris' shooting below (Warning: Disturbing content):