As the 'Justice for Victims of Trafficking Act' Turns One, Lawmakers Demand DOJ Get Tougher on Ad Platforms and Sex Buyers
Federal legislators are calling on Justice Department to be more proactive about using the 2015 sex-trafficking law.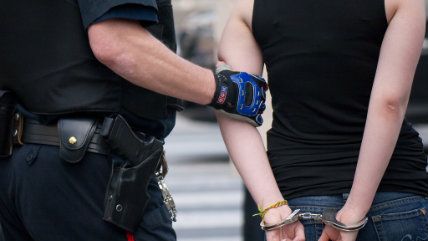 It can be difficult to effectively criticize bad responses to good causes. But good intentions plus power, money, and bureaucracy don't always lead to the best incentives or outcomes. And this dynamic was on full display last Wednesday on Capitol Hill, where a bipartisan roster of U.S. representatives had come together to talk about the Justice for Victims of Trafficking Act (JVTA).
The JVTA was passed by Congress in May 2015 with near unanimous support. One of just three dissenters in the House was Rep. Bobby Scott (D-Va.), a staunch advocate for criminal sentencing reform. Scott objected to the JVTA's creation of a 10-year mandatory minimum sentencing requirement for advertising platforms that facilitate sex trafficking. In theory, that requirement might sound noble, but in practice it targets websites such as Craigslist, Backpage, and other user-generated content platforms where anonymous individuals post millions of ads each week. Under the JVTA, the presence of a single sexually-oriented ad posted by someone under 18 could trigger sex-trafficking charges for anyone involved with running the platform.
Rep. Ann Wagner (R-Mo.) said at the press conference that she hopes the Department of Justice (DOJ) will make more use of the advertising clause in the upcoming year. "Backpage.com has sued the federal government," said Wagner (more about that lawsuit here), "and I'm proudly named in that suit. I consider it a badge of honor. If these horrific internet websites want to sell our children online it is not… a freedom of speech issue, it is a crime. And the SAVE Act, and JVTA, say 'this is a crime.'"
Free speech, civil liberties, and sex-worker rights advocates say diffently, of course, pointing out that Backpage cooperates extensively with law enforcement when ads are suspected to feature underage individuals, and the overwhelming majority of ads posted on the classified-ad site have nothing to do with sex or human trafficking.
But Wagner is just one of 37 legislators calling on the feds to be more proactive about using the 2015 federal sex-trafficking law. In a letter to Attorney General Loretta Lynch on May 24, they criticized the DOJ because "some provisions of the JVTA have yet to be implemented" and stated that they will "employ concerted due diligence until every child, woman, and man is safe from modern day slavery."
Their requests aren't 100 percent unreasonable. One thing they ask for is better Bureau of Justice statistics on rates of arrest, prosecution, and conviction for human trafficking offenses.
Then again, the Justice Department did commission a pretty significant report—released in January 2016—on human-trafficking arrests, prosecutions, and convictions in America, with a team of independent academic researchers looking at data from 2003 through 2012. State measures involving tougher punishments or more police busts for prostitution-related crimes were "the dominant legislative response," the researchers found out—although these tough-on-crime responses had "no impact on the number of arrests and prosecutions for human trafficking."
Such responses, however, are exactly what lawmakers were pushing last week. One of the main points they stressed in the letter to Lynch was the need for an assistant U.S. attorney general in each U.S. district to focus on overseeing and prosecuting trafficking cases. Another was for even greater focus on catching and prosecuting people who pay for sex.
"JVTA goes after the demand side of this, and that is what's important," said Rep. Wagner.
The theory behind "end demand" efforts—law-enforcement initiatives targeting sex buyers—is that the demand for prostitution generally creates the conditions for victims of sex-trafficking to be exploited. The answer, say end-demand advocates, is to punish prostitution clients as felony sex offenders (under state laws) and sometimes as harshly as those doing the human trafficking. As a result, we've seen an increasing number of "john stings," where undercover cops pose as sex workers and arrest those who take the bait.
Efforts to fund the arrest and prosecution of "persons who engage in the purchase of commercial sex acts" have been a part of federal anti-trafficking agenda since 2005, with the second re-authorization of the Trafficking Victims Protection Act. Commercial sex (i.e. prostitution) stings are routinely paid for with federal grant money and aided by agents from the Department of Homeland Security (DHS) and the FBI.
Lawmakers speak of this move as a way to bring justice to bear on "child sex traffickers." In reality, it allows for the escalation from misdemeanor solicitation charges to federal or felony human trafficking charges for anyone who offers—knowingly or unknowingly—to pay someone even one day under 18 for sex.
Under the JVTA, only those who solicit sex from trafficking victims "can and should be prosecuted" as human traffickers. But there is no requirement for the sex soliciter to know the individual is being trafficked. What's more, federal law defines anyone under age 18 who engages in prostitution as a sex-trafficking victim, even if no one is forcing, coercing, or even working with them. And the government need not prove that a sex solicitor "knew the person [selling sex] had not attained the age of 18 years."
Treating such individuals as legally equivalent to kidnappers, violent pimps, and human smugglers was one of the central tenets of the JVTA.
One advantage to this approach, for the government, is greater civil asset forfeiture possibilities and the ability to extract more fine money from defendants. For instance, under the JVTA, anyone convicted must pay $5,000 into a Domestic Trafficking Victims' Fund, in addition to any fees assessed as part of regular sentencing. There also need not be an actual victim under this approach—an undercover officer posing online as a teenager will do just fine.
"Make 'em pay the rent on the courthouse," said Rep. Ted Poe (R-Texas) at the Wednesday press conference, summing up the JVTA approach.
Poe also praised the U.S. State Department's annual "Trafficking in Persons" (TIP) report, in which the department grades other countries' anti-human trafficking efforts. He then wondered out loud where the U.S. would rank if we ranked ourselves?
We do. The U.S. earned the best possible ranking (Tier One). The report stated that federal anti-trafficking laws are "sufficiently stringent and commensurate with penalties prescribed for other serious offenses: penalties ranged up to life imprisonment." According to the TIP, Immigration and Customs Enforcement (ICE) opened 987 investigations possibly involving human trafficking in fiscal-year 2014, the FBI opened 835 investigations, DOJ-funded task forces opened 1,083 investigations, DOS opened 154 cases, the Department of Defense opened 14.
Taken together, DOJ initiated a total of 208 federal human trafficking prosecutions in FY 2014, charging 335 defendants. Of these prosecutions, 190 involved predominantly sex trafficking and 18 involved predominantly labor trafficking, although some involved both. These figures represent an increase from FY 2013, during which DOJ brought 161 prosecutions charging 253 defendants. During FY 2014, DOJ secured convictions against 184 traffickers, compared with 174 convictions obtained in FY 2013. Of these, 157 involved predominantly sex trafficking and 27 involved predominantly labor trafficking, although several involved both. These totals do not include child sex trafficking cases brought under non-trafficking statutes. Penalties imposed on convicted traffickers ranged from five years to life imprisonment. For the first time, the government used an extraterritorial jurisdiction provision of the law to convict a trafficker for sex trafficking that took place in another country.
Poe stated last week that the purpose of the JVTA is to "[change] the focus, and society's concept, of who the victims are" in human trafficking. But the real focus, as evidenced by lawmakers' statements and letter to the DOJ, seems to be on shifting the conception of perpetrators. He called prostitution clients "a group that has gotten away with this for far too long." Sex buyers "are not johns—John was in the Bible, he's a good guy," said Poe. "Johns are bad guys, today."
"The days of 'boys being boys' in America is going to end," Poe continued. "And this legislation will help end that."
At the same time, adult sex workers and minors caught up in prostitution now fall prey to the overly broad legal conception of sex trafficker enshrined in federal code, along with general vice charges. As Kate D'Adamo, a trafficking-victims advocate with the Sex Workers Project, told The Kernel recently, "just being declared a victim of trafficking only means that [someone under 18] might be able to access certain benefits legally," but "doesn't make her immune to prosecution in the state or federal level, even if it's the exact same behavior that she is legally declared a victim under."
"While we recognize that criminalization isn't what those trading sex underage need," said D'Adamo, "it's the laws that we choose to police which impact people."
Last week, the global human-rights group Amnesty International released data critical of the so-called Nordic Model of prostitution laws. Under these laws, criminal enforcement is theoretically shifted from those selling sexual services to those buying them. But the state's newfound passion for punishing sex buyers, along with the narrow range of circumstances under which selling sex is legal, still leads to ample surveillance, harassment, and arrest of sex workers.
Human rights abuses against people engaged in prostitution—whether consensually or by force—"are compounded by and, in some cases, directly caused by the legal framework" there, stated Amnesty International. "Oslo police have over the last decade adopted a 'preventative policing' approach to sex work which involves the enforcement of lower level offences as 'stress methods' to disrupt, destabilize and increase the pressure on those operating in the sex sector. One academic researcher describes how police sources 'in Oslo often use terms like they are going to 'crush' or 'choke' the [prostitution] market, and unsettle, pressure and stress the people in the market.'"