Cops Arrest, Attack Mom Who Let 11-Year-Old Son Drive Golf Cart
Charged with child abuse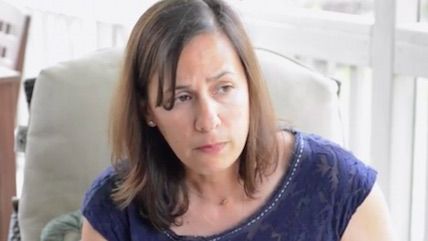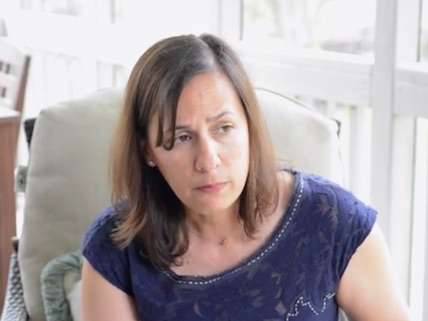 A North Carolina mom who let her 11-year-old son drive a golf cart on a vacation island for about 30 seconds was arrested, wrestled to the ground, handcuffed, and frog-marched onto a ferry to the police station, where she was jailed in leg irons and charged with child abuse.
The mom, Julie Mall, was on vacation with her husband, son, 9-year-old daughter, 22-year-old niece, and their golden retriever, staying at a $1000/night cottage on Bald Head Island. On the evening in question, last July 26, they were riding on a paved path at dusk when the cart was pulled over by an officer.
According to Mark Washburn in The Charlotte Observer, "Mall says there is no question she was wrong." No one is allowed to drive a golf cart without a drivers' license. But what happened next is in dispute.
The police department report says that after Officer James Hunter pulled over the cart, he identified himself to the Malls and "immediately observed them both to be intoxicated"—a fact the Malls dispute. The police did not conduct any intoxication tests.
The report added that Julie Mall was "agitated and loud" and "interfering with street and pedestrian traffic." The officer said that when he ordered Mall to move off the path, she refused. And then:
"In attempting to secure the custody of the female, same dropped to the ground and began screaming and flailing around, refusing to surrender her hands or obey officer commands," Hunter wrote.

"Same was physically assaultive and required me to initiate ground control to secure her custody."
Julie Mall recalls the incident differently. After Officer Hunt pulled them over:
"Immediately he started berating us," she says. "He was saying 'How old is this kid?' 'Are you guys drunk?' 'I could write you up for child abuse.' "

Mall says she had no more than a single glass of wine with dinner hours earlier, and no one was intoxicated.

As the officer's tirade continued, she says, her son burst into tears. She asked her niece to take the children back to the cottage.
Until now, it should be noted, Mall's only encounter with the police was a 2007 traffic ticket:
Mall says after the sobbing children left, she told the officer she was angry that he had upset them unnecessarily. "I said, 'You ought to be ashamed of yourself,' and I stuck my finger in his face."

She says the officer didn't have a citation book with him, so he radioed for someone to bring him one. A second police vehicle arrived, and later a third.

Four or five officers were conferring there when she asked her husband to drive their golf cart back to the cottage to get mosquito repellent, leaving her alone in the dark with the police.
Four or five officers? What if elsewhere on the island some desperado was picking flowers from a public park? The story continues:
Mall says she was standing on the median of the path tapping away on her cell phone when the officer came over and told her she was blocking traffic and she needed to return to her golf cart – which no longer was there.

Mall says she was standing off the roadway at the time and the police vehicles had the road blocked.

"He said, 'You need to go back to your golf cart or I'm going to cuff you,' " she says. "He lunged across at me, twisting my arm behind my back. I'm hysterical. I've never been that scared of anything in my life."
Scott Mall returned and managed to videotape what came next: His hysterical wife sobbing and screaming on the ground, with the officer's knee in her back. She was then driven to the local station house (where a gaggle of officers were watching Naked and Afraid). From there:
Hunter and another officer took her to the ferry, where about 30 passengers were waiting for the next boat.

When it arrived, she says she was led aboard barefoot – she lost her flip-flops in the struggle – for the trip to Southport. Waiting passengers were told they would have to wait for the next boat because a prisoner was being transported.
Like she's Son of Sam.
On the mainland she was driven to the police office in Bolivia, NC. There she was charged with resisting a public officer, intoxicated and disruptive behavior, and misdemeanor child abuse.
When her handcuffs were removed so she could be fingerprinted, her ankles were shackled instead, and she was put into a jail cell. Bond was set at $1,000. Her husband arrived, paid the bond and she was released.
She returned for her trial on Aug. 20, but Officer Hunter did not appear. The trial was rescheduled for Oct. 2, and again Hunter did not appear. "Without a witness, the state dismissed the case," according to the Observer.
If I were that officer, I'd be AWOL, too.
Elsewhere in the article, the reporter noted that "Bald Head Village has about 25 officers in its Public Safety Department. With a year-round population of 168, the municipality has the enviable ratio of one officer for every seven residents."
Just how enviable it is to have one cop for every seven residents is up for debate.